Hot air from Scotland over independence
Even when oil prices were high, it was dubious that they could afford to go it alone. If they went independent now, they would lose the English money that keeps them afloat. They would then have to fire half of their public servants and start charging for all currently free services. There is no way the average Scottish voter will fall for that
Next week the Scottish government will publish a bill laying the groundwork for a new independence referendum, the country's leader said Thursday — the first step toward a new vote on whether Scotland should leave the United Kingdom.
Scottish voters rejected independence in 2014 by 55 percent to 45 percent, but Britain's June 23 vote to leave the European Union has reopened the Scotland question. By a large majority, Scots backed remaining in the EU, but they were outnumbered by a majority in England who wanted to leave.
First Minister Nicola Sturgeon told her pro-independence Scottish National Party on Thursday that ''the Independence Referendum Bill will be published for consultation next week.''
She said if Britain leaves the EU's enormous single market of 500 million consumers, ''Scotland will have the right to decide, afresh, if it wants to take a different path.''
''A UK out of the single market — isolated, inward looking, hemorrhaging jobs, investment and opportunities — will not be the same country that Scotland voted to stay part of in 2014,'' Sturgeon said.
''If that's the insecure, unstable prospect we face as part of the UK, then no one will have the right to deny Scotland the chance to choose a better future.''
A new Scottish referendum is not a certainty. Opinion polls suggest that there is not yet a majority in favor of independence.
Sturgeon said British Prime Minister Theresa May's Conservative government must give Scotland's Edinburgh-based Parliament ''substantial additional powers,'' including power over immigration, if it wanted to keep Scotland in the UK.
SOURCE
Mohammed is at it again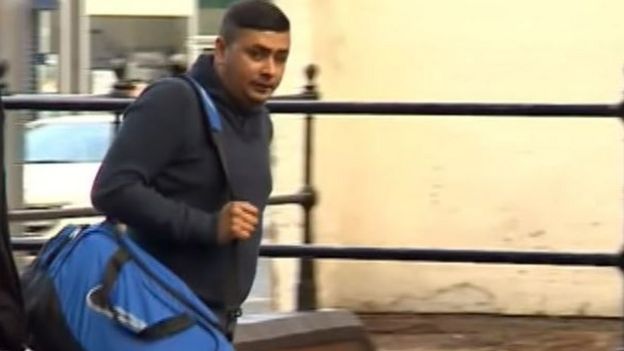 A man who deliberately mowed down two pedestrians in a 'shocking' road rage attack which was caught on CCTV has been jailed for six years.
Mohammad Abdullah, 30, of Mulgrave Street, Scunthorpe, left his victims with life-changing injuries after the 'dreadful episode' in April this year.
Footage shows the two victims, Mark Thompson, 35, and his uncle, Kevin Morson, 53, crossing the road before Abdullah ploughs into them at high speed.
Abdullah, who was said to have shown 'genuine remorse', was also banned from driving for eight years at Grimsby Crown Court.
Mr Thompson and Mr Morson, were crossing Frodingham Road in Scunthorpe in the early hours of April 14.
The pair had been out socialising in Scunthorpe and were described by prosecutor Jeremy Evans as being 'merry'.
The film shows Abdullah's Saab driving towards the men and swerving to avoid them at the last minute.
Mr Evans told the court: 'This is nothing more, at this stage, than a road-rage spat. He had taken exception to two males that are crossing the road, safely but not at a crossing.
'He's going to give them a warning with his vehicle.'
The court heard there was an angry exchange between Mr Thompson and Mr Morson and the occupants of the car.
Abdullah then performed a 'double reversing manoeuvre' to line his car up with the men before accelerating at speed towards them.
The CCTV footage shows Mr Thompson being thrown over the bonnet and roof of the car, while Mr Morson, who has mobility issues and uses a walking stick, is hit by the corner of the vehicle.
Both men suffered fractures to their legs as a result and the footage shows Mr Thompson's leg give way as he tries to stand up following the attack.
Abdullah immediately drove away and abandoned the car, his keys and his mobile phone before leaving the area and travelling to London by public transport.
He pled guilty after watching the footage in court earlier this week.
Judge Peter Kelson QC told Abdullah, who earlier pled guilty to two counts of grievous bodily harm with intent: 'This is, in your life, an isolated, albeit shocking, incident.'
He continued: 'It was one dreadful episode. It was one awful manoeuvre.
'You have lived, effectively, a law-abiding, constructive life as a family man but for 15 seconds of your life when you did this mad thing in a terrible temper.'
SOURCE
Media Have Enormous Tolerance for Intolerance Against Catholics
Most of the media have been delinquent in reporting on the latest Wikileaks story involving Hillary Clinton's campaign chairman John Podesta, communications director Jennifer Palmieri, and Center for American Progress senior fellow John Halpin.
In a series of email exchanges, Palmieri and Halpin made patently disparaging remarks about Catholics, and showed disdain for evangelicals as well. They shared their vitriol with Podesta, who did not respond (the source we quoted from yesterday mistakenly attributed a remark by Halpin to Podesta).
Fox News was the most responsible media outlet reporting on the Catholic bashing: Fox News Website, Megyn Kelly, Sean Hannity, and Fox and Friends all cited the bigotry. CNN's Anderson Cooper also did a good job.
CBS, NBC, PBS, and MSNBC all reported on the Podesta Wikileaks story, but failed to mention the anti-Catholic remarks; ABC News didn't report the story at all, though its affiliates mentioned the controversy without citing the Catholic bashing.
Among the most prominent newspapers and wire services that ran the story without reporting on the anti-Catholic comments were the following: Associated Press; CNN Wire; Baltimore Sun; Boston Globe; Boston Herald; Hartford Courant; Miami Herald; New York Daily News; New York Post; New York Observer; New York Times; Newsday; San Diego Union Tribune; Spokesman Review; UPI; USA Today; Washington Post; Washington Times. It comes as no surprise that The White House Bulletin also covered up the bigotry.
I have been doing this job for over 23 years, so it is no mystery why the mainstream media are hyper-sensitive about "micro aggressions," and other slights, when they are made about many protected groups, yet there is enormous tolerance for intolerance when it is exhibited against Catholics and evangelicals. It's called bigotry, plain and simple.
It would be a grave mistake to conclude, however, that an anti-religious impulse explains this phenomenon. No, when it comes to Muslims, the media will bend over backwards to show how sensitive they are to any perceived intolerance.
SOURCE
PM: 'To say Israel has no link to the Temple Mount is like saying Egypt has no connection to the Pyramids'
Netanyahu leads angry denunciations of 'absurd' UNESCO decision
UN body's motion ignoring Jewish link to Temple Mount draws scorn from across Israeli political spectrum, including charges of anti-Semitism
Furious Israeli politicians accused the UN's cultural arm of anti-Semitism Thursday in the wake of a resolution approved by UNESCO that erases the Jewish connection the Jerusalem holy sites.
Lawmakers from both the right and left of the political spectrum said the decision, which refers to the Temple Mount and Western Wall only by their Muslim names and condemns Israel as "the occupying power" for various actions taken in both places, was ill-befitting of UNESCO.
Prime Minister Benjamin Netanyahu called the decision "absurd," while President Reuven Rivlin called it an "embarrassment" for UNESCO. The Executive Board of UNESCO is next week set to approve the resolution, which passed Thursday at the committee stage.
Culture Minister Miri Regev slammed the resolution as "shameful and anti-Semitic," and Agriculture Minister Uri Ariel called for Israel to increase the Jewish presence on the Temple Mount, a flashpoint site governed by a tense status quo, in response.
"To say that Israel has no link to the Temple Mount is like saying that China has no link to the Great Wall or that Egypt has no connection to the Pyramids," Netanyahu said, adding that "with this absurd decision UNESCO has lost what little legitimacy it still had."
He also said UNESCO was ignorant regarding the Bible, and accused the body of taking part in a "Theater of the Absurd."
Twenty-four countries voted in favor of the resolution Thursday afternoon, six against and 26 abstained, though ambassador Carmel Shama-Hacohen praised the diplomatic effort that had changed several no votes in a similar resolution in April into abstentions this time around.
it was "a significant accomplishment," that countries like France, Sweden, Argentina and India, which had earlier supported the declaration, now abstained, he told Army Radio.
"It's not pleasant, "he said, "but I'm pleased by the decision, relatively, because it was clear the decision would pass but we didn't know which countries would support it. We had the goal of gaining back French support and our friends in Europe," he said.
Jerusalem Mayor Nir Barkat said he was "outraged" over the decision "which denies thousands of years of Jewish connection to Jerusalem's Western Wall."
"Would UNESCO vote to deny the Christian connection to the Vatican? Or the Muslim connection to Mecca," he said in a statement.
Opposition chief Isaac Herzog accused UNESCO of betraying their mission. "Whoever wants to rewrite history, to distort fact, and to completely invent the fantasy that the Western Wall and Temple Mount have no connection to the Jewish people, is telling a terrible lie that only serves to increase hatred."
Fellow Labor Party lawmaker Eitan Cabel called it "anti-Zionist, shameful and embarrassing."
"You can try and throw the innumerable testimonies (of a Jewish connection) into the trash, the evidence, the prayers and the archaeological discoveries. You can try and throw into the sea the millions of Jews who have touched this place with their hands and hearts," he wrote on his Facebook page. "It won't help you."
MK Merav Michaeli, also from the dovish party, said the resolution was the result of Netanyahu refusing to appoint a foreign minister and holding the position for himself for political capital.
The left-wing Emek Shaveh organization, which says it seeks for archaeology to be decoupled from politics, said the resolution would only make a solution to the Israeli-Palestinian conflict more difficult.
"Now that an international, professional entity like UNESCO has disregarded the deep relationship of the Jewish people to the Western Wall and the Temple Mount, they've only made it easier for the Israeli right to convince the Israeli public that Jerusalem is in danger," the group said in a statement.
Indeed, lawmakers from the right-wing Jewish Home party called on Netanyahu to use this opportunity to increase Jewish activity on the flash-point holy site.
"Especially now, it's on us as a government to act in defiance of these decisions and to strengthen the Temple Mount and the Jewish presence on the site holiest to the Jewish people — the Temple Mount," said Agriculture Minister Uri Ariel.
Rivlin, speaking at an event before the vote, said UNESCO was making a mockery of itself with the vote.
"No forum or body in the world can come and deny the connection between the Jewish people, the Land of Israel and Jerusalem – and any such body that does so simply embarrasses itself," Rivlin said at an event in his Jerusalem residence. "We can understand criticism, but you cannot change history".
In the US, Congressman Ted Duetch called the motion "dangerous."
SOURCE
*************************
Political correctness is most pervasive in universities and colleges but I rarely report the incidents concerned here as I have
a separate blog for educational matters
.
American "liberals" often deny being Leftists and say that they are very different from the Communist rulers of other countries. The only real difference, however, is how much power they have. In America, their power is limited by democracy. To see what they WOULD be like with more power, look at where they ARE already very powerful: in America's educational system -- particularly in the universities and colleges. They show there the same respect for free-speech and political diversity that Stalin did: None. So look to the colleges to see what the whole country would be like if "liberals" had their way. It would be a dictatorship.
For more postings from me, see
TONGUE-TIED
,
GREENIE WATCH
,
EDUCATION WATCH INTERNATIONAL
,
FOOD & HEALTH SKEPTIC
,
AUSTRALIAN POLITICS
and
DISSECTING LEFTISM
. My Home Pages are
here
or
here
or
here
. Email me (John Ray)
here
.
***************************