Get a job! Judge backs ruling that ex-wife of millionaire racehorse surgeon has no right to be 'supported for life'
A parasite gets her comeuppance
A top judge has backed a ruling which told the ex-wife of a millionaire racehorse surgeon to 'get a job' because she has no right to be 'supported for life' at her former husband's expense.
Lord Justice Pitchford, sitting in the Royal Courts of Justice in London, has rejected an application by Tracey Susan Wright, 51, who claimed she should continue to receive maintenance support from her ex-husband Ian.
Last year, Mr Wright, 59, who is one of the country's top equine surgeons, went to the High Court to try and reduce the £75,000-a-year in maintenance and school fees he was ordered to pay his ex-wife following their divorce in 2008.
At the time, Judge Lynn Roberts agreed that the payments should come to an end since there was no good reason why Mrs Wright had not taken up any paid work in the six years since the divorce.
Mrs Wright, who lives with the couple's two children in Newmarket, Suffolk, challenged the ruling, claiming that having to care for their 10-year-old daughter 'was an inherent restriction on her ability to develop any kind of earning capacity in the next five years.'
However, Lord Pitchford has now upheld Judge Roberts' initial ruling and supported the idea that it is 'imperative that she go out to work and support herself.'
The lengthy court battle began when the couple – who married in 1997 - divorced in 2008, having separated in 2006.
At the time, a judge ruled that they should sell their £1.3million seven-bedroom home, set in 16 acres of countryside in Suffolk, and split the proceeds.
It meant Mrs Wright – a former legal secretary and riding instructor - walked away from the divorce with a lump sum which enabled her to buy a £450,000 mortgage-free house in the heart of Newmarket, Suffolk, plus stabling for her horse and her daughters' ponies.
As part of the divorce order, she was also handed £75,000 yearly payments, of which £33,200 was spousal maintenance for her personal upkeep.
She opted to remain a stay-at-home mother following the split and has so far refused to take up any paid employment.
It prompted Mr Wright, who runs a cutting edge equine hospital in Newmarket which carries out life-saving surgery on top-class horses, to approach the High Court to seek a reduction in the hefty maintenance bills he was paying his former partner.
He protested that it was not fair that he was expected to keep supporting his ex-wife indefinitely, even after his retirement, while she made 'no effort whatsoever to seek work.'
The court heard that Mr Wright steadfastly made the payments, but was worried that supporting his wife would be unaffordable after he retires at 65.
Ruling in Mr Wright's favour, Judge Roberts agreed last year that there was no good reason why Mrs Wright had not taken up work and criticised her for being 'evasive on the subject of her own earning capacity.'
'The world of work has innumerable possibilities these day...vast numbers of women with children just get on with it and Mrs Wright should have done as well,' the judge said.
'I do not think the children will suffer if Mrs Wright has to work, and indeed a working mother at this stage of their lives may well provide them with a good role model.
'It is possible to find work that fits in with childcare responsibilities. I reject her other reasons relating to responsibilities for animals, or trees, or housekeeping.
'Mrs Wright has made no effort whatsoever to seek work or to update her skills...I am satisfied that she has worked on the basis...that she would be supported for life. 'It is essential...that she starts to work now.'
He added that 'the order was never intended to provide the wife with an income for life' and concluded: 'The onus will henceforth be on her. This application is dismissed.'
SOURCE
Are the Ruling Elites in China Now More Pro-market than the Ruling Elites in the USA?
The current issue of the Cato Policy Report (January/February 2015) contains a short article about a book by Zhang Weiying called The Logic of the Market: An Insider's View of Chinese Economic Reform, which was originally published in Chinese (and said to be a best-seller in China in that form) and was recently translated into English.
The author is the director of Peking University's Center for Market and Network Economy and is described as a leader among pro-market economists in China, a description that accords well with the quotations given from his writings. In the article, a quotation from a recent Wall Street Journal interview with him states: "He [Zhang] says that when he recently wrote an article praising the late Austrian economist Murray Rothbard, the Communist Party secretary of Shanghai—a fairly high-level apparatchik—told him he liked it."
I ask you: Has anyone high in the U.S. government ever praised any writing that lauds Rothbard's views, not to mention Rothbard's writings themselves? To me it is inconceivable that any such figure would do so. Moreover, is anyone in U.S. academia with a position comparable to Zhang's position in Chinese academia likely to praise Rothbard's views? To me it is inconceivable that any such figure would do so.
Once upon a time, the Chinese were the enemies of private property rights and free markets, and the Americans were the enemies of the Chinese and purported to cherish the institutions that the Chinese hated. Today no such clear-cut difference exists. If anything, today's Chinese in high places seem to be more inclined to say kind words about private property rights and the free market than are comparably placed Americans. And when such Americans do speak favorably of these institutions, they do not really mean what they say, as their actions consistently attest.
SOURCE
Let Them Eat Cake
In January of this year, a Denver bakery found itself at the center of a civil rights controversy. The crime? The bakery refused customer Bill Jack's request to put an anti-gay message ("God Hates Gays") on a cake. He reported that he felt as though the bakery discriminated against him based on his "creed."
In response to the claim, the bakery's owner, Marjorie Silva, stated that, "it's unfair that he's accusing me of discriminating when I think he was the one that is discriminating."
Almost immediately, people came to Silva's defense. Her supporters claimed that she had every right to deny Jack's request. Her personal convictions differed from those of her customer, so why should she be forced to cater to his request? There are a multitude of other bakeries who would have likely supplied the requested confection.
This isn't the first time a Colorado bakery has come under fire for its decisions regarding the LGBT community. In fact, a judge recently ruled that Colorado's Masterpiece Cakeshop had unlawfully discriminated against a gay couple for refusing to sell them a wedding cake.
In this case, however, the sympathies went to the customers, and not the store's owner.
This is puzzling. In both cases you have a store owner refusing to serve a particular client because their personal beliefs conflict with those of their customer. However, the reactions have been very different. In both of these cases, however, the parties have called upon the government's anti-discrimination laws to compel the other party to compensate them.
Why is it that we should be discussing whether or not we should force bakers to make gay wedding cakes, straight wedding cakes, anti-gay cakes, etc.? Allow me to argue that there is another way to deal with this issue—let the market sort this one out.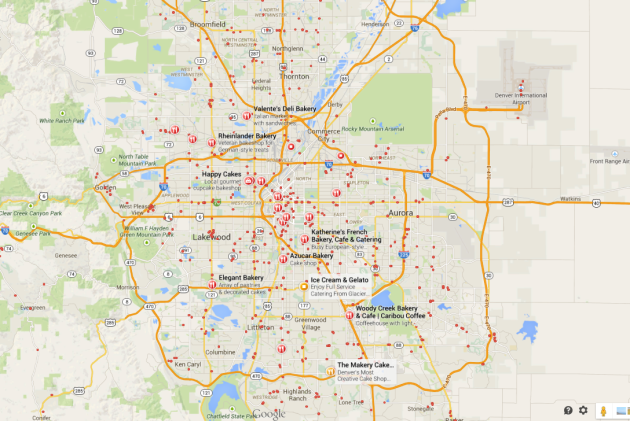 Above is a quick Google search of the bakeries in Denver. Every one of the red dots represents a bakery. As you can see, that's a lot of pastries. Now, let's suppose that some of these bakeries, say 25%, have a problem making wedding cakes for same-sex weddings. This means there are 75% of bakeries that would make the cake. Perhaps a subset of these bakeries specialize in same-sex wedding cakes (to answer your question, no, I don't know what a same-sex wedding cake looks like vs. a traditional one other than maybe the cake topper...work with me).
What would happen in this case? Certain bakeries would get reputations for making particular cakes and serving a certain clientele. After word gets out, those in search of same-sex wedding cakes go to bakeries that will make them and avoid the ones who don't. Those who are offended by the idea of same-sex marriage don't have to compromise their convictions–producers or consumers. Same goes for those who are offended by a strictly heterosexual interpretation of marriage.
This idea makes many people uncomfortable. In response to this idea, many people would say that we should just ban this idea all together because "discrimination is wrong." If we allowed businesses to refuse service to particular groups based on sexual orientation, or race, age, etc., then we'd wind up with a pre-civil rights era world of restaurants, theaters, bakeries, etc. completely excluding particular groups.
Perhaps we should let them. Why? Because they bear the full cost of that choice.
Here's an example.
Let's say a restaurant owner is a misogynist. He just can't stand women. As a result, he makes his eatery a "men only" establishment. What are the consequences of this decision? First, he loses out on the business he might earn from women coming to eat in his restaurant. Since women make up about 50% of the population, he's eliminating a potentially large source of revenue. In addition to this, he loses out on a variety of male customers who want to bring their wives, girlfriends, etc. Further, many people, including a lot of men, will find the owner's policy offensive. As a result, they will refuse to eat there. The owner sees his profits fall. Most likely, he will be forced to close his business.
So what can the owner do? He can continue to indulge his preferences of discriminating against women and lose a ton of business or he can serve women and potentially increase his revenues.
Put simply, the market tempers his discrimination. The market forces of profit and loss mean that he bears the full cost of his bias against women.
Let's bring this back to the idea of bakeries and wedding cakes for same-sex marriages. If a bakery refuses to make a cake for a gay wedding, or refuses to put an anti-gay message on a cake, they bear the cost of those preferences. As a result, they will lose the business of a particular group of people. In addition, just as in the example above, they will likely lose additional customers who identify with the group or find the bakery's policy offensive. It will negatively impact the bakeries. They will either a. continue to refuse service to the particular group and lose business or b. relax their restrictions.
The current policies of anti-discrimination doesn't eliminate bigotry. As I've discussed elsewhere, anytime you prohibit something you merely succeed at pushing it under ground. Moreover, current policies require monitoring and enforcement costs. As the example above illustrates, the market acts as its own monitor and enforcer–putting financial and competitive pressures on those with extreme (and unpopular) preferences.
Put simply, allowing people to indulge their preferences, or discriminate, have significant consequences in the marketplace. In this case, allowing the market to handle the situation means that everyone gets to have their cake and eat it too
SOURCE
Republicans in Congress Demand Answers About Military Chaplain Disciplined for Referencing the Bible
A group of 24 Republican lawmakers are demanding an explanation about why the Army disciplined a military chaplain for making references to the Bible during a suicide-prevention seminar.
In a letter addressed to Army Secretary John McHugh, lawmakers wrote:
"We believe this administrative action sets a dangerous precedent for Army suicide prevention initiatives, the role of Army chaplains, and most importantly, the ability for service members to exercise and express religious beliefs, as protected under the First Amendment and reinforced by current law and [Department of Defense] regulations."
In addition to 17 U.S. Representatives, Senators Mike Lee, R-Utah, Ted Cruz, R-Texas, James Inhofe, R-Okla., Tom Cotton, R-Ark., and David Vitter, R-La., Roy Blunt, R-Mo., and James Lankford, R-Okla. co-signed the letter.
The lawmakers called the disciplinary action "unwarranted," and said it "sends the wrong message not only to chaplains of all faith traditions throughout the Army, but also to soldiers as well, that spirituality and religion are not welcome in the Army as viable methods for coping with suicidal thoughts or other personal issues more broadly."
The chaplain, Capt. Joe Lawhorn, was punished last November after conducting a training session on suicide prevention at the University of North Georgia.
During the suicide prevention session, Lawhorn shared his personal struggles with depression while serving as an Army Ranger and explained how he learned to conquer adversity by following the example of Israel's warrior king, David, one of the great heroes of the Old Testament.
Lawhorn also passed out a handout that drew from the Bible's Book of Psalms and referenced its central Jewish figure, David, as an example of how to manage thoughts of depression and suicide.
A serviceman alerted an atheist group, Military Association of Atheists and Freethinkers, about the chaplain's comments.
The atheist group complained about it. "This chaplain violated the privilege and responsibility he had and he exploited that opportunity to push his personal religious beliefs on the captive audience of military personnel," Jason Torpy, president of the organization that filed the complaint told The Daily Signal in an earlier interview.
Lawhorn then received a letter of concern from Col. David Fivecoat, commander of the Airborne and Ranger Training Brigade at Fort Benning, Ga., faulting him for "using Christian scriptures and solutions." The disciplinary letter said:
During this training, you advocated, or were perceived to advocate for Christianity and used Christian scripture and solutions. This is in direct contrast with Army Regulation 600-20 and violates the Army's Equal Opportunity Policy.
It will remain in the chaplain's file for up to three years.
In their letter to Secretary McHugh, the 24 lawmakers requested that the Army review the incident as it relates to federal law—in specific the First Amendment right to free speech—and demanded an explanation of a chaplain's role in conducting Army training.
"We fully expect Army to take the steps necessary in protecting the religious freedom of all soldiers while affirming the vital role of chaplains in ensuring the well-being of our soldiers," they wrote.
SOURCE
*************************
Political correctness is most pervasive in universities and colleges but I rarely report the incidents concerned here as I have
a separate blog for educational matters
.
American "liberals" often deny being Leftists and say that they are very different from the Communist rulers of other countries. The only real difference, however, is how much power they have. In America, their power is limited by democracy. To see what they WOULD be like with more power, look at where they ARE already very powerful: in America's educational system -- particularly in the universities and colleges. They show there the same respect for free-speech and political diversity that Stalin did: None. So look to the colleges to see what the whole country would be like if "liberals" had their way. It would be a dictatorship.
For more postings from me, see
TONGUE-TIED
,
GREENIE WATCH
,
EDUCATION WATCH INTERNATIONAL
,
FOOD & HEALTH SKEPTIC
,
AUSTRALIAN POLITICS
and
DISSECTING LEFTISM
. My Home Pages are
here
or
here
or
here
. Email me (John Ray)
here
.
***************************