Multicultural nutritionist exploits faith in vitamins
A Harley Street nutritionist has been fined after claiming his fitness regime could combat cancer as effectively as chemotherapy.
Former bodybuilder Dr Stephen Ferguson, 45, provided a range of protein shakes and multivitamin drinks, which had 'cured' two of his clients.
The health food range could also heal epilepsy, motor neurone disease and multiple sclerosis, according to his website.
With 300 video testimonials from satisfied clients on the website, The Natural Health Clinic enjoyed a turnover of £70,000 in its first year of business.
But today, Dr Ferguson was fined £1,750 for violating the Cancer Act. The act was designed to protect vulnerable people from unprofessional advice.
Sentencing, District Judge Adrian Turner told Hammersmith Magistrate's Court: 'The written material refers to cancer, with a link to the clinic. 'It is plainly implied this is someone who treats cancer. 'Any member of the public would believe this is someone who has treated and in two cases cured cancer.
'I'm satisfied Dr Ferguson was fully involved with everything that's on his site and anyone reading this would have no doubt this was an offer of services for those seeking treatment for cancer.
'I'm in no doubt those YouTube testimonials are a major part of the company's business in treating cancer and Dr Ferguson's approach to the Cancer Act has been a head in the sand one.'
Vitamin C capsules sold on Dr Ferguson's website were captioned with the testimonial: 'Many have said it helps them get rid of cancer.'
Other products included Multivitamin PH Balancer, Blood Cleanser & Energy Booster and a Tropical Fruit Whey Protein Powder, which were advertised as cures for the life-threatening disease, as well as for asthma, arthritis, and diabetes.
It was also implied the clinic was involved in the successful treatment of a patient with prostate cancer.
The business flourished between June 17 and October 2 last year, until the council received a complaint.
In a bid to distance himself from the website's content, and video adverts uploaded to YouTube, Dr Ferguson told the court a female employee was responsible. 'She was meant to stick to specific guidelines and not put on anything about treating cancer or anything like that,' he said. 'She was asked not to include her own personal views on there.
'I know it should not say anything that says we are treating cancer. It's purely for diet and fitness and exercise and nothing else.'
Acknowledging a video strap line that included the word 'cured' for a Merkel cell tumour treatment, Dr Ferguson told the court: 'I don't know how it got there.'
He denied uploading the YouTube content to a page owned by username 'SFSTEVE100', and claimed not to know who did.
'I don't write on my website, I have other people update it for me. I was checking the website, but obviously not everything that went on there, there's three thousand pages,' he added.
The judge also ordered Dr Ferguson to pay £2,500 costs and a £120 victim surcharge, telling him: 'You are not accused of quackery, no one is saying you are not a qualified nutritionist.
'These are reckless offences, not a deliberate attempt by you to exploit the vulnerable.'
SOURCE
The economics of political correctness
Over the past few years, spiked online magazine has consistently and robustly defended the principle of free speech against the censorship demands of the politically correct, whatever quarter they may come from. It is great, of course, that there is at least one magazine in which the phrase 'I believe in free speech' is unlikely to be followed by a 'but…', and more likely to be followed by an 'even for…'. But while I fully support the spiked line, I also think the spiked authors sometimes misinterpret the intentions of the 'PC brigade', and would like to offer an alternative interpretation rooted in boring, old-fashioned textbook economics.
Spiked authors believe that PC is driven by a loathing for ordinary people. According to spiked, PC brigadiers view ordinary folks as extremely impressionable, easily excitable, and full of latent resentment. Exposure to the wrong opinions, even isolated words, could immediately awaken the lynch mob. PC, then, is about protecting 'the vulnerable' from the nasty tendencies of the majority population.
But if PC was not really about protecting anyone, and really all about expressing one's own moral superiority, PC credentials would be akin to what economists call a 'positional good'.
A positional good is a good that people acquire to signalise where they stand in a social hierarchy; it is acquired in order to set oneself apart from others. Positional goods therefore have a peculiar property: the utility their consumers derive from them is inversely related to the number of people who can access them.
Positionality is not a property of the good itself, it is a matter of the consumer's motivations. I may buy an exquisite variety of wine because I genuinely enjoy the taste, or acquire a degree from a reputable university because I genuinely appreciate what that university has to offer. But my motivation could also be to set myself apart from others, to present myself as more sophisticated or smarter. From merely observing that I consume the product, you could not tell my motivation. But you could tell it by observing how I respond once other people start drinking the same wine, or attending the same university.
If I value those goods for their intrinsic qualities, their increasing popularity will not trouble me at all. After all, the enjoyment derived from wine or learning is not fixed, so your enjoyment does not subtract from my enjoyment. I may even invite others to join me – we can all have more of it.
But if you see me moaning that the winemakers/the university have 'sold out', if you see me whinging about those ignoramuses who do not deserve the product because they (unlike me, of course) do not really appreciate it, you can safely conclude that for me, this good is a positional good. (Or was, before everybody else discovered it.) We can all become more sophisticated wine consumers, and we can all become better educated. But we can never all be above the national average, or in the top group, in terms of wine-connoisseurship, education, income, or anything else. We can all improve in absolute terms, but we cannot all simultaneously improve in relative terms.
And that is what positional goods are all about – signalising a high position in a ranking, that is, a relation to others. This leads to a problem. Positional goods are used to signalise something that is by definition scarce, and yet the product which does the signalling is not scarce, or at least not inherently. You can increase the number of goods which signal a position in the Top 20 (of whatever), but the number of places in that Top 20 will only ever be, er, twenty. Increasing the number of signalling products will simply destroy their signalling function. Which is why the early owners of such a signalling product can get really mad at you if you acquire one too.
We have all seen this phenomenon. Those of my age (1980 vintage) have probably witnessed it for the first time in their early teens, when an increasing number of their schoolmates tried to look like Nirvana singer Kurt Cobain, and being a fan of that band lost its 'edginess'. 'Being alternative' is a positional good. We cannot all be alternative [1]. Literally not.
Now remember how the 'early adopters' responded when Nirvana fandom went mainstream, and their social status was threatened, because there are clear parallels with PC: some of them went on to more extreme styles; others tried to repair the broken signal by giving endless sermons about the differences between 'those who are in the know' and 'the poseurs'.
PC-brigadiers behave exactly like owners of a positional good who panic because wider availability of that good threatens their social status. The PC brigade has been highly successful in creating new social taboos, but their success is their very problem. Moral superiority is a prime example of a positional good, because we cannot all be morally superior to each other. Once you have successfully exorcised a word or an opinion, how do you differentiate yourself from others now? You need new things to be outraged about, new ways of asserting your imagined moral superiority.
You can do that by insisting that the no real progress has been made, that your issue is as real as ever, and just manifests itself in more subtle ways. Many people may imitate your rhetoric, but they do not really mean it, they are faking it, they are poseurs (here's a nice example). You can also hugely inflate the definition of an existing offense (plenty of nice examples here.) Or you can move on to discover new things to label 'offensive', new victim groups, new patterns of dominance and oppression.
If I am right, then Political Correctness is really just a special form of conspicuous consumption, leading to a zero-sum status race. The fact that PC fans are still constantly outraged, despite the fact that PC has never been so pervasive, would then just be a special form of the Easterlin Paradox.
Keep up the good work, spiked team. But bear in mind that you are up against a powerful economic force.
SOURCE
There does seem to be a competition to find more and more things "offensive"
Sri Lanka thanks Australia for its support against UN "Human rights" inquisition
Judging by recent human rights criticisms of Britain by the UN, the UN is off with the fairies in such critiques. See here and here
The Sri Lankan government has publicly thanked Australia for its "bold" decision not to co-sponsor a UN resolution to investigate alleged human rights abuses in the south Asian nation.
According to a statement by the Sri Lankan high commission, Sri Lanka thanked Australia for the "bold decision of not co-sponsoring this year's human rights resolution on Sri Lanka''.
Immigration Minister Scott Morrison and the head of Operation Sovereign Borders, Lieutenant-General Angus Campbell, welcomed a Sri Lanka delegation, including Defence Secretary Gotabaya Rajapaksa, formally invited by the federal government.
"[The] government of Australia considers accountability and human rights concerns should be addressed within an internal mechanism and not by any international investigation as suggested by other countries," the high commission statement said.
"[The] Australian side indicated that they would render all possible assistance to Sri Lanka in this regard," it said.
Foreign Affairs Minister Julie Bishop then met with the country's External Affairs Minister Professor G.L. Peiris. During their meeting, Mr Peiris also thanked Ms Bishop for her understanding of the "Sri Lankan situation", and for declining to co-sponsor the Resolution against Sri Lanka at the Human Rights Council in March, the high commission said in a separate statement.
A spokeswoman for Ms Bishop said the meeting between the two ministers was confidential.
"The Australian Government has a well known policy of engagement with the Sri Lankan Government and a constructive and diverse relationship with Sri Lanka. We continue to work closely with the Sri Lankan Government on a range of matters," she said.
International lawyers have strongly condemned the delegation meeting, saying it was a distraction to the country's gross human rights violations - including forced abductions, torture, and extrajudicial killings by state forces, land seizures by the military and oppression of political opponents that plagued Sri Lanka during the 26-year civil war that ended in 2009.
"The visit shows the price this Government is willing to pay in its one-eyed obsession to stop the boats," said Emily Howie, director of Advocacy and Research Human Rights Law Centre. "Not just silence on ongoing human rights abuses in Sri Lanka, but a concerted effort to stifle international efforts at justice for victims of war crimes and crimes against humanity," Ms Howie said.
Ms Bishop voiced her opposition to an international investigation into the alleged war crimes in March, saying she was not convinced that the UN-backed inquiry was "the best way forward", refusing to co-sponsor the UN's independent investigation.
During November's Commonwealth Heads of Government Meeting, Australia did not join other major countries that crtiticised the regime's human rights abuses. Both India and Canada boycotted the meeting, while the United Kingdom's prime minister David Cameron publicly condemned the regime. In contrast, Prime Minister Tony Abbott presented the government with two patrol boats.
SOURCE
Liberal Press Silent on Boko Haram
220 schoolgirls haven't been 'abducted' by Boko Haram, they have been enslaved. Boko Haram is a vile manifestation, yet the liberal press stays silent, fearful of 'demonising the other'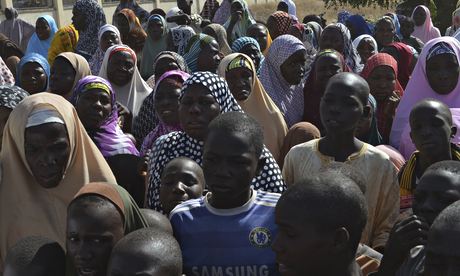 Terrorists from a religious cult so reactionary you don't have to stretch the language too far to describe it as fascistic attack a school. The assault on a civilian target, filled with non-combatant children, has a grotesque logic behind it. They call themselves "Boko Haram", which translates as "western education is forbidden". The sect regards learning as oppression. They will stop all teaching that conflicts with a holy book from the 7th century and accounts of doubtful provenance on the life and sayings of their prophet written hundreds of years after he died.
A desire for sexual supremacy accompanies their loathing of knowledge. They take 220 schoolgirls as slaves and force them to convert to their version of Islam. They either rape them or sell them on for £10 or so to new masters. The girls are the victims of slavery, child abuse and forced marriage. Their captors are by extension slavers and rapists.
As you can see, English does not lack plain words to describe the foulness of the crimes in Nigeria, and no doubt they would be used in the highly improbable event of western soldiers seizing and selling women.
Yet read parts of the press and you enter a world of euphemism. They have not been enslaved but "abducted" or "kidnapped", as if they will be released unharmed when the parties have negotiated a mutually acceptable ransom. Writers are typing with one eye over their shoulder: watching their backs to make sure that no one can accuse them of "demonising the other".
Turn from today's papers to the theoretical pages of leftwing journals and you find that the grounds for understanding Boko Haram more and condemning it less were prepared last year.
Without fully endorsing Boko Haram, of course, socialists explained that it finds "resonance in the hearts of many poor and dispossessed" people, who are revolted by "the corruption and flamboyant lifestyle of the elites". Islamism is recast as a rational reaction to local corruption and the global oppression of "neoliberalism", one of those conveniently vague labels that can mean just about anything.
Once, rightwing newspapers or ultra-Catholic or orthodox Jewish writers would have been the least concerned about the subjugation of women and the most willing to find excuses for religious persecution. But with the reliability of a speaking clock, it is leftwing writers of the 21st century who seek to minimise violent reaction if – and only if – the reactionaries are anti-western. (They speak out against the lesser crimes of the US religious right, without a thought for their own double standards.)
"The mechanical denunciation of the west," wrote the French political theorist Pascal Bruckner in 2010, "forbids the western bloc, which is eternally guilty, to judge or combat other systems, other states, other religions. Our past crimes command us to keep our mouths closed." He might have been writing today, so persistent is the belief that the west is the root cause of the only oppression worth mentioning.
But the appearance that nothing has changed is deceptive. It was always absurd, and in its own way racist, to blame the problems of the world on "the west". Leftists came to resemble American neoconservatives. The US right, or an element of it, thought American military power could solve any ill. The left, or an element of it, talked as if the west was responsible for all ills. Both were self-obsessed. Both believed that the west remained the motor of history while the rest of humanity were bit players.
The most grievous offence was the failure of solidarity. You cannot ally with what liberal and leftwing forces there are in any country from Afghanistan to Zimbabwe if your are blaming their oppression on colonialism, neoliberalism or any other "ism" that is buzzing around in your head. You will end up excusing your comrades' enemies instead.
If occidentalism was absurd in the past, it's preposterous now. Boko Haram is not reacting to western intervention in Nigeria, for there is none. The only way you can pretend the west is to blame is by agreeing that knowledge is "western knowledge", rather than the property of the entire human race, and that the education of girls is "western cultural imperialism" – a road that leads you to nihilism as soon as you step down it.
Meanwhile, we are moving faster than anyone expected to a new age in which China will be the world's largest economy. For the first time since the 18th century, the dominant power will not allow internal opposition or the Chinese equivalent of the campaigns on behalf of the victims of its foreign policy that we saw in Britain, France and the US in the last 200 years. We have not begun to understand the turn for the worse the cause of global human rights is taking as empires shift.
On the few occasions western leftists feel they have to justify themselves, they say they must dedicate their energies to challenging what they can change. They cannot influence the Taliban or Boko Haram, but can lobby their own governments. Even if you take these explanations at face value – and I don't – they have a Tory feel to them. Until recently, it was conservatives, not leftists, who said that "charity begins at home" and quarrels in faraway countries were no concern of ours.
Peter Singer, a great radical philosopher, made the old distinction clear with a thought experiment. Imagine you are passing a shallow pond and see a child going under. You know that if you save the child you will ruin your clothes. Should you wade in? Of course you should, everyone replies: "It would be obscene to put your desire to save spending £50 on a new outfit before the life of a child."
Why then, asks Singer, do you not give money you can afford to spare to save the life a child in Africa?
The majority of conservatives say the deaths of children they know nothing of are not their business. Leftists, and again I accept I am generalising, revolt against such parochialism. Yet when it comes to violence against civilians and, most notably, the denial of women's rights, they change the conversation to anything except the deeds of the criminals in front them. The girl can drown or be enslaved and raped. They have more pressing concerns
SOURCE
*************************
Political correctness is most pervasive in universities and colleges but I rarely report the incidents concerned here as I have
a separate blog for educational matters
.
American "liberals" often deny being Leftists and say that they are very different from the Communist rulers of other countries. The only real difference, however, is how much power they have. In America, their power is limited by democracy. To see what they WOULD be like with more power, look at where they ARE already very powerful: in America's educational system -- particularly in the universities and colleges. They show there the same respect for free-speech and political diversity that Stalin did: None. So look to the colleges to see what the whole country would be like if "liberals" had their way. It would be a dictatorship.
For more postings from me, see
TONGUE-TIED
,
GREENIE WATCH
,
EDUCATION WATCH INTERNATIONAL
,
FOOD & HEALTH SKEPTIC
,
AUSTRALIAN POLITICS
and
DISSECTING LEFTISM
. My Home Pages are
here
or
here
or
here
. Email me (John Ray)
here
.
***************************