The Man The Delusional Left Calls A #NAZI
▶️ Recognized Jerusalem As The Capital Of #Israel
▶️Cut Funds To The #PA For REFUSING To Recognize The Right Of #Israel To Exist
▶️ Honors Millions Of Murdered #Jews On #HolocaustMemorialDay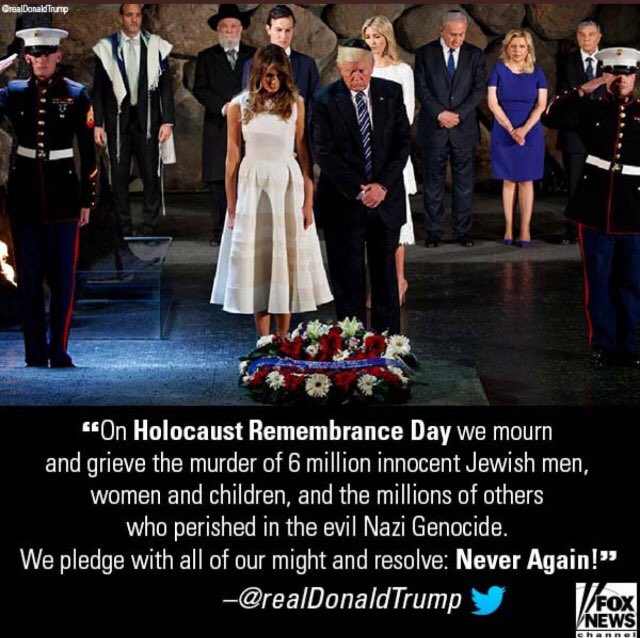 And the award for most sexist, misogynist bunch of vile hypocrites goes to… the Grammys!
There was no doubting the highlight of last night's Grammys.
It came when Kesha gave an emotional performance of her single "Praying", about the alleged sexual abuse she suffered at the hands of her former producer 'Dr Luke' Gottwald.
She was introduced by Janelle Monae who delivered a powerful speech to the star-studded audience. 'We say time's up for pay inequality, discrimination or harassment of any kind,' Monae declared, 'and the abuse of power.'
Then Kesha appeared on stage with a host of other female stars including Cindy Lauper and Camila Cabello.
They all wore white, the theme colour for the night, along with the wearing of white roses, to show support and solidarity for the #MeToo and #TimesUp movements.
When Kesha finished singing, she burst into tears, as did many of the audience.
But Kesha didn't actually win an award. In the category for which she was nominated, Best Pop Solo Performance, Ed Sheeran won, for a song – as enraged Twitter swiftly pointed out - about getting a woman drunk and taking her home to have sex with her.
This was the perfect embodiment of the gigantic problem the Grammys has in proudly joining the charge for better treatment of women.
Because let's be perfectly frank: it's the single most sexist, misogynist and abusive awards show of them all, celebrating many of the most sexist, misogynist and abusive people in an amoral industry of spectacular proportions.
If you thought Hollywood's bad, it's got nothing on the record business, particularly in the worlds of hip-hop and rap.
Take Big Sean, a rapper whose lyrics are littered with misogynistic and homophobic material. In the video for his single 'I Don't F*ck With You', the Detroit rapper talks about 'stupid ass b*tches.'
He collaborated last year on a song with Eminem which included lyrics about 'urinating on Fergie' and raping Conservative talk show host Ann Coulter 'with a Klan poster, a lamp post, a door handle and a damn bolt cutter.'
He doesn't just write about treating women badly, he acts on it too.
In 2011, Big Sean was arrested in New York for sexual abuse, unlawful imprisonment and forcible touching of a 17-year-old girl after a concert. Some charges were dropped after he accepted a guilty plea for unlawful imprisonment of the girl, a fan.
This would have led to him being banned from continuing to work in almost any other job. But not the music industry. This year, Big Sean was nominated for a Grammy.
Hip-hop and rap stars like him have made millions from writing music and making videos that depict women as prostitutes, sexual objects and 'b*tches'.
One of the biggest winners last night night was Kendrick Lamar, whose most recent album is riddled with graphic sexually-charged lyrics and repeated references to 'hoes' and 'b*tches'.
One song, Loyalty, has the line: 'Girl, you look so good, it's to die for, Ooh that p*ssy good, it's to die for.' In another, Humble, he says: 'Girl, I can buy yo' ass the world with my paystub, Ooh that p*ssy good, won't you sit it on my taste bloods?'
It continues: 'I'm so f***ing sick and tired of the Photoshop.. show me somethin' natural like ass with some stretch marks. Still will take you down right on your mama's couch in Polo socks.'
In Lust, he says: 'Pop you a pill, call up your b*tches, have 'em waitin' on you, go to the club, have some fun, make that ass bounce.'
If Lamar worked in the media or film industry right now, he'd be hung, drawn and quartered for speaking that way in public. But because he's a rapper, he was rewarded with an array of Grammys.
As for any pretense at gender equality, only 17 of the 86 Grammy awards last night went to women or female-fronted bands.
Towards the end of the show, Hillary Clinton, the High Priestess of Hypocrisy, popped up to read Trump-mocking extracts from Michael Wolff's book Fire and Fury. She received wild applause.
It seemed perfectly fitting that the liberal music world's heroine on a night of tearful endorsements about abuse of power and sexual harassment, should be someone who it emerged this week had protected a campaign advisor's job during the 2008 presidential race after he was accused of…. sexual harassment.
SOURCE
Feminists hate attractive women
In Britain, it is a tradition that attractive women accompany players to the playing position
SUPER-sensitive snowflakes have been taking aim at everything we love, from James Bond to Are You Being Served. And moaning millennials have now scored a bullseye after darts chiefs opted to ditch walk-on girls in case they offend women.
"Nothing is safe from this army of the easily offended. These snowflakes think everything that offends them is fair game for their fury. "They want to crush any idea, image or pastime that doesn't slavishly conform to their worldview.
"It's time we told them to do one.
"Barely a day passes without reports of someone or something being "called out" by these jumped-up Joe Stalins.
"In recent days, they have turned their authoritarian attention to the beautiful women who walk on at the darts.
"Under pressure from broadcasters desperate to be PC, the Professional Darts Corporation says it will no longer employ these gorgeous women. "Apparently, getting women to do such things is "inappropriate" in the 21st century. It has all of a sudden been deemed 'inappropriate'
"This is such a sad story. "Darts is a wonderful sport, but God knows it needs glamour and is made much more attractive by these women.
"But they're gone now, erased from public life by people who have decreed that glammed-up women are "offensive".
"This means the young working-class women who made an easy buck at the darts will no longer be able to do so. It is a weird feminism that chortles as women lose their jobs.
SOURCE
ANGER as multiple properties in London are only offered to Muslim occupants for rent
London's secret Muslim only accommodation has been exposed thanks to Rebel Media and the Daily Star. Hundreds of property adverts on websites such as GumTree were only available for those who are Muslim or of Asian descent.
It's unbelievable that in this day and age, 'white people' or anyone who is not Muslim is discriminated against getting living accommodation. The Star reported:
"Our reporters discovered hundreds more across the UK, including signs for "Asian only" and "Polish only" tenants.
The ads echo those of the 1950s and '60s when landlords hung "Whites only" signs in windows. There are fears the discrimination scandal is fuelling a ghetto culture in our towns and cities which could be exploited by far-right groups.
In Woolwich, south-east London, tensions have been running high since Army drummer Lee, 26, was murdered by extremists last year.
At nearby Jash News, one small ad read: "Room to let for £400 in Plumstead… ONLY FOR ASIAN FAMILY.
Similar notices were discovered in ethnically diverse areas of east London such as Mile End and Whitechapel.
On a short walk along a busy high street five adverts were spotted in three newsagents windows saying "Muslim only" tenants and "Bangladeshi only".
We also uncovered around 200 property adverts on websites such as Gumtree, specifying Muslims."
According to experts, landlords who discriminate are breaking the law.
Could you imagine the massive uproar if 'white Christian' refused to let Muslims or Asians live in their property…it would be all over the news!
A Facebook user has posted an image showing four separate housing classified adverts in London and the West Midlands that appear to only be accepting Muslim tenants.
The post from a user on the Brexit HQ group, if genuine, proves that such advertisements are effectively 'slipping through the net' when it comes to ensuring that equality rules are not broken.
There will naturally be people out there who feel that these landlords and homeowners aren't doing anything wrong on Gumtree, but at the same time there is one very important question that needs to be asked.
What would happen if the word 'Muslim' was changed for another faith group?
We're not saying this to be Islamophobic in any way – far from it – we are just using this as an example to highlight what we feel is an example of the powers that be picking and choosing what they allow to be posted.
SOURCE
*************************
Political correctness is most pervasive in universities and colleges but I rarely report the incidents concerned here as I have
a separate blog for educational matters
.
American "liberals" often deny being Leftists and say that they are very different from the Communist rulers of other countries. The only real difference, however, is how much power they have. In America, their power is limited by democracy. To see what they WOULD be like with more power, look at where they ARE already very powerful: in America's educational system -- particularly in the universities and colleges. They show there the same respect for free-speech and political diversity that Stalin did: None. So look to the colleges to see what the whole country would be like if "liberals" had their way. It would be a dictatorship.
For more postings from me, see
TONGUE-TIED
,
GREENIE WATCH
,
EDUCATION WATCH INTERNATIONAL
,
AUSTRALIAN POLITICS
and
DISSECTING LEFTISM
. My Home Pages are
here
or
here
or
here
. Email me (John Ray)
here
. Email me (John Ray)
here
.
***************************