Muslim values at work in Australia
On January 16, 2015, a visibly shaken Leila Alavi hung up the phone after taking a call from her estranged husband.
Prosecutors say the 26-year-old turned to a colleague and told him: "He said he is going to kill me and all of us. Probably he is watching too many movies."
By morning, she was dead.
In the carpark below the western Sydney hairdressing salon where she worked, Mokhtar Hosseiniamraei stabbed his wife 56 times with a pair of scissors he had stolen from a nearby supermarket.
"That moment. Like a bomb. It exploded. I didn't realise what I was doing for a moment," he would later tell a forensic psychiatrist.
But in the hours after the stabbing on January 17, 2015, when police asked him through an interpreter why he had killed Ms Alavi, Hosseiniamraei was frank: "Because we were married, and ... she broke the contract. I could not tolerate it.
"And I could not forget it."
Documents tendered in the NSW Supreme Court on Thursday tell of the devastating loss suffered by Ms Alavi's loved ones, and the broken logic with which her killer tried to explain what he had done.
"Where did you hit her with scissors on her body?" police asked Hosseiniamraei.
"In her heart and in her neck. Because she did not obey the rule of marriage," the killer replied.
"When we marry we have a commitment, moral commitment towards one another. In this country this means nothing."
He has since pleaded guilty to murdering Ms Alavi.
Hosseiniamraei, a refugee who fled Iran because of religious persecution, met his bride in Turkey and travelled with her to Australia in 2010.
By late 2014 the relationship had broken down and Hosseiniamraei was abusing drugs daily.
A psychiatrist who interviewed the 34-year-old noted he had been using heroin and ice almost every day around that time, and was smoking up to 28 joints of cannabis a week.
Ms Alavi sought a restraining order on October 2014, but documents before the court indicate the couple continued to see one another regularly.
Even after their separation, Ms Alavi continued to visit Hosseiniamraei to cook and clean for him, according to the offender's sister.
Now the dead woman's relatives have questioned why more was not done to keep her safe.
In a victim impact statement tendered in court on Thursday, Ms Alavi's sister Marjan Lotfi wrote that the grief of losing her was "almost unbearable".
"I don't want other women to suffer the same tragedy. I don't want other family members to go through what I and my family have gone through," she wrote.
"I keep thinking: why didn't someone help her? Why didn't she receive the protection she needed?"
Another sister, Mitra Alavi, said she and Leila had left Iran to escape violence. She said she had worried for years about her little sister's relationship with Hosseiniamraei.
"I saw that she was abused both physically and psychologically by him. I believe this man was cruel and dangerous," she wrote.
SOURCE
What Conservatives Did to Pull Off Religious Liberty Win in California
California conservatives won a surprise victory this week, changing a state assembly bill that would have curtailed the freedom of private religious colleges.
"We literally were able to see tens of thousands of people mobilize to make calls and to write their legislators, and to participate in the political process," William Jessup University President John Jackson told The Daily Signal in a phone interview.
"We were hearing from legislators who said that they had gotten hundreds and hundreds and hundreds of phone calls on just this one piece of legislation," he added. "And I think that's a tremendous, tremendous encouragement to me for the health of our state."
It's a victory that they hope will prove a bellwether for institutional liberty fights to come.
Facing a maelstrom of grassroots controversy, state Sen. Ricardo Lara, a Democrat, said Wednesday that he would remove the portions of his bill, SB 1146, that would have harmed the right of religious colleges to operate according to their principles.
Under the previous wording, SB 1146 would have ultimately blocked low-income students from receiving Cal Grants, California's system of need-based education aid, if they attended colleges with policies such as bathroom use based on biological sex that violated the state's LGBT policies. It also would have enabled students who feel discriminated against in light of these policies to bring a lawsuit against their college.
"Without a doubt, the unmodified version [of the bill] would have jeopardized Christian institutions and egregiously penalized all students of faith, especially Latino and African-American individuals," Samuel Rodriguez, president of the National Hispanic Christian Leadership Conference, said in a statement.
Conservatives who opposed the measure say they are relieved by this change, but some stressed that the current version of the bill, while less concerning, may still negatively impact religious colleges. Jackson mentioned a new amendment that would make religious colleges release data on expelled students—ostensibly to ensure they were not expelled for discriminatory reasons.
"What we've indicated to the senator [Lara] is that we'll have to review the bill and compare it to [Family Educational Rights and Privacy Act] regulations," Jackson said.
But religious liberty activists say they are pleased to have an effective blueprint for success as that battle progresses, a blueprint that involves building national coalitions focused on preserving the rights of religious Americans.
In addition to grassroots mobilization, conservative nonprofits also played a pivotal role in the controversy.
The Becket Fund for Religious Liberty publicized the fact that three of four students affected by the loss of Cal Grants would be low-income minority students, circulating a petition that quickly garnered 100,000 signatures.
With an open statement, Andrew Walker's, the director of policy studies at the Southern Baptist Convention's Ethics and Religious Liberty Commission, commission publicly opposed the bill with the support of a diverse group of advocates and thinkers both on the ideological left and on the right. Notable signatories included law professors, administrators at religious colleges, Hispanic and Islamic leaders, seminary presidents, Christian denominational authorities, intellectuals at think tanks (including three from The Heritage Foundation), and conservative magazines.
The statement was publicly released on Tuesday. On Wednesday, Lara announced that he was changing the provisions.
"I just think that this was a multifaceted effort that really showed what effective communication and strategy can result in," Walker told The Daily Signal in a phone interview. "You get your national coalitions working with your people on the ground, coupled with strong messaging—and religious liberty, we found out, is not dead in California."
Continued defeats on issues of individual conscience, Walker said, showed that advocates of religious freedom still have a long way to go. But as lawmakers nationwide begin to bicker over the limits of freedom of conscience for religious institutions, the changes to SB 1146 represent a heartening opening salvo.
"There's one discussion about private citizens engaged in commercial acts, like the bakers and the florists and the photographers, but what we see here is that the ability to protect religious institutions and their religious integrity remains very intact and very strong," he said. "We're going to have to turn especially and fight on all fronts, and that includes institutionally. We had a large institutional win in California."
Jackson and Walker also stressed that conservatives must remain vigilant to oppose similar encroachments in the future.
"The sponsor of this bill has said that he intends to study this issue at further depth, and possibly reintroduce legislation like this next year," Walker said. "We're not naïve to the fact that this is an ongoing battle."
SOURCE
Political Correctness Has Skewed Our Understanding Of Racism
By Hsin-Yi Lo, Melbourne-based writer and freelance journalist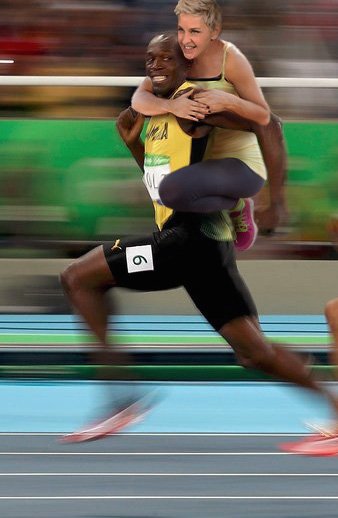 Talk show host Ellen DeGeneres has caused a storm when she posted an edited photo of Usain Bolt carrying her on his back with the tweet saying, "this is how I'm running errands from now on." But critics have taken the post amiss and blitzed the comedienne on social media demanding her to take off the post. Political correctness is once again the culprit that's killed our joy to make witty jokes, and the parameters of what actually constitutes racism.
PC started in the 1970s which was the era that spawned a generation of activists crusading against institutionalised thoughts that discriminate ethnic minorities, and people from different sexual orientations, religion and physical abilities. Credit should be given to the movement since it has corrected derogatory words like the N-word, and replacing it with 'Afro-American'. PC has also encouraged us to use gender indeterminate descriptions for jobs i.e. chairperson and businessperson so we don't subconsciously think that only males dominate particular roles.
As we live in a more pluralistic world, we should try to eliminate prejudice for the sake of social harmony. But PC has inadvertently bred a "I'm so easily offended" culture where we blow things out of proportion. This year Red Cross' pool safety poster for children came under fire because there were more 'coloured children' portrayed as the naughty kids. If we must be PC about this, could this poster be racist when there are 'white children' also illustrated as disobedient and there is a 'coloured' safety instructor?
Like DeGeneres' post, humour, wit or good intentions are mistaken for spite and racism. In Australia we're encouraged to be more culturally aware in our day-to-day interactions. This also extends to avoiding the greeting 'Merry Christmas' because it could potentially offend non-Christians and give out the idea that only Christmas is celebrated across the country. Instead, we should use religiously-neutral salutes like 'Seasons Greetings'.
I don't have a religion myself, but I don't mind when friends and associates say Merry Christmas to me because I know they wish me well. I also remember when I was studying in the UK, one of my flatmates kindly put a small Christmas tree in the kitchen so those who were alone wouldn't feel desolate and bleak.
In the immortal words of George W Bush: "The notion of political correctness has ignited controversy across the land. And although the movement arises from the laudable desire to sweep away the debris of racism and sexism and hatred, it replaces old prejudice with new ones. It declares certain topics off-limits, certain expression off-limits, even certain gestures off-limits".
PC has barred us from openly discussing race, religion, sexuality, etc. If freedom of expression is limited, we lose opportunities to explore more about ourselves, society and the world. Examples include criticism over Hollywood's decision to cast Scarlett Johansson as Major Motoko in 'Ghost in the Shell'. According to political correctness, Major Motoko is exclusively Asian even though the character sports a set of blue eyes. I'm also denied the freedom to have open discussions about mixed marriages.
We're also obsessed with finding the perfect description to identify non-white Australians. The word 'ethnic' is considered racist because it implies non-white Australians are 'backwards' and separate from the 'default' Australian race – the white Australians. There are multiple interpretations of the word ethnic, but essentially it describes groups of people who share a common religion, race, cultural heritage and language. To replace it, we used NESB (non-English speaking background) to define non-white Australians.
Unfortunately, NESB didn't fit the shoe because the term hints that second generation migrant Australians could be included. And now, we've got CALD (culturally and linguistically diverse background) – a seemingly immaculate description for non-whites. But with PC's high alert on race and ethnicity – it's hard to address the implications this phrase brings.
I remember I had a debate with a member of the PC brigade who didn't accept that 'CALD' also suggests that Irish-Australians or even Anglo-Australians could be included. And if non-whites have exclusive membership to the CALD club, then we've contradicted ourselves because we're maintaining that there is a divide between whites and non-whites. Since the word ethnic and CALD serves the same purpose, 'ethnic' should be a foul word. As humans we tend to categorise people, who are dissimilar to us, according to their different traits. Through this, this is how we can openly learn about others who are different from us.
Unfortunately, black slavery is part of our world history and it's understandable we're more vigilant when it comes to race relations between black and white people. But now we don't have a proper sense of what bigotry really means, and we've become so preoccupied with taking the self-righteous moral high ground we're carelessly labelling people someone as racist without understanding the full consequences.
SOURCE
Australia: A racist who was distraught to be called a racist
She seemed to think that it was reasonable to fight racial discrimination by discriminating racially
Cindy Prior, 49, has bittersweet memories of her childhood in a loving family with nine brothers and sisters.
Her parents were Aboriginal, members of the Noongar tribe. They enrolled her in a primary school in Bunbury, Western Australia, and at a high school in the mining town of Kalgoorlie.
In her affidavit in a Racial Discrimination Act section 18C case she brought against Queensland University of Technology students, from whom she is seeking $250,000 in damages, Prior describes formative experiences and events in her life, including racism, before her employment as an administrative officer in QUT's indigenous-only Oodgeroo Unit in Brisbane.
Her school years, she recalls, were a "challenging time for me and other Aboriginal students due to the perception and racist attitudes of non-indigenous students and some teachers towards us". "When I started school I made friends with both white and Aboriginal students. Racism in the playground and in the class was a daily occurrence, but surrounded by my big cousins and sister, we stuck up for each other and supported each other. I was above average in all of my classes but as I looked around there were no Aboriginal students in any of my (high school) classes and I deliberately began to fail so that I could be in the same classes as them. I was a quiet, well-liked ­student and had made friends with both white and Aboriginal ­people."
Prior, who left at the end of Year 10, describes an "extremely disadvantaged" upbringing of her parents. She says her parents were restricted from going to school (except for mission schools) ­because of segregation policies.
Prior worked in a Kalgoorlie shop. Married at 23, she had three children. She says she became sole carer of her now adult children ­following the 2014 death in a car accident of their father, whom she had divorced. She wanted to do an arts degree majoring in human rights, ethics and Australian studies until illness scotched those plans.
At the heart of her affidavit is the reason for it being sworn in the first place: "the 28 May 2013 incident", the catalyst for her action against the students in an ongoing case that The Weekend Australian has been reporting since it burst into public consciousness in February this year. It is this vexing case that has begun a public debate about 18C's impact on free speech, posing a challenge for Malcolm Turnbull as he comes under growing pressure to make good on promises he had quietly made to fellow parliamentarians to reform 18C if he replaced Tony Abbott as prime minister. The QUT case is being cited by ­reform-minded federal Liberal politicians, including Abbott, James Paterson, Tim Wilson and Cory Bernardi, along with independent conservatives such as Bob Day and David Leyonhjelm.
The case confounds some of the arguments of supporters of 18C because, on what is known from public filings and other material, it is still going three years later while causing significant financial, reputational and emotional cost to those caught in it and to taxpayers. The unanswered question is to what extent Prior's family circumstances have contributed to her ­reliance on 18C against the students, reinforcing concerns of some that the legislative provision can be used to address past hurts and unrelated grievances.
Attorney-General ­George Brandis, a Queensland senator, has been conspicuous by his ­silence on the case and its implications for free speech as a result of 18C, which makes it unlawful for anyone to "offend, insult, humiliate or intimidate" another person or group on the grounds of "race, colour or ethnicity".
In the beginning, according to Prior, colleague Naomi Franks, a learning support officer in the uni, appeared "hesitant and uncertain" on May 28, 2013. She was worried as she told Prior: "There are some people in the computer lab and I don't think they're indigenous. Love, you do it."
Prior, who oversaw reception for the indigenous-only "safe space", replied: "I'll deal with it.'' She says she saw "three young white men I did not recognise at all", and to one of them, Alex Wood, a fee-paying student who had unknowingly entered the unit to try to access a computer, she asked: "Hi, are you indigenous?''
Wood: "No, we're not.''
Prior: "Ah, this is the Oodgeroo Unit, it's an indigenous space for indigenous students at QUT. There are other computer labs in the university you can use.''
Prior says the students said nothing. They packed their gear. Prior had made it plain that they needed to go, however, she insists: "I didn't ask them to leave because I didn't want to embarrass them in a black space. They simply left and I thought that that was that.''
She says she continued working. A few hours later an indigenous student went to her with concerns that comments had been posted to a Facebook site, called QUT Stalker Space, about the eviction of Wood and his two friends from the Oodgeroo Unit. She says there were tears in the unit as the comments were read by the indigenous staff and students.
Wood, in what he saw as a legitimate, uncontroversial exercise of free speech, had written: "Just got kicked out of the unsigned ­indigenous computer room. QUT (is) stopping segregation with segregation."
Jackson Powell wrote sarcastically: "I wonder where the white supremacist computer lab is."
One post that was obviously ­offensive — "ITT niggers" — came from a Facebook profile bearing the name of student Calum Thwaites, who had not been near the Oodgeroo Unit. He immediately reported to Facebook and QUT that the Facebook profile had never belonged to him; he would never write such words; and that someone had set him up as part of a student prank.
In her affidavit of 285 pages, including exhibits, earlier this year, Prior recalls: "I was terribly upset and angry. I dread the word 'nigger'. It is the ultimate racist taunt."
She and colleagues had printed and screenshot the thread, which was circulated to university management, including the unit's ­director, Lee Hong, and Mary Kelly, the director of equity. One of Prior's contacts in the Faculty of Law Project offered her a "safe space" and observed in an email: "I guess it just reinforces what we all know to be true for this place."
Prior went home and downloaded the posts. She became more upset as she read some students expressing their opinions that an indigenous-only unit was unhelpful because it perpetuated inequality, and resulted in "chronic self-consciousness and feelings of inferiority for Aboriginal people". She says she became anxious at work the next day. "I had barely slept." The reference to "white ­supremacists" in the sarcastic post of Powell left her, she says, with a "visceral reaction", and a "primal fear of images of white hoods and burning crosses". She says she feared being physically assaulted "if word got out that I was the person" who had turned away Wood. She raised with five managers her security needs as "interim measures for our safety and students" including the activation of swipe-card access. She says she felt "at risk of imminent but unpredictable physical or verbal assault".
Prior says she was "furious, distraught, upset and emotionally drained" after she had read that QUT academic Sharon Hayes had speculated in an online post that Prior could have breached regulations by questioning Wood and the other two students about whether they were indigenous. Prior went to a doctor and was medically certified as unfit for work. Her initial doctor wrote: "Cynthia feels unsafe and frightened to return to work."
Ten days after the students walked into the Oodgeroo Unit, a second doctor issued a workers' compensation certificate declaring her unfit for work due to "nightmares, fear and sweating". Four days later, Prior, who has not returned to the unit in the three years since the incident, told QUT she would be taking the matter to the Human Rights Commission. She felt "disheartened and powerless" because the university and its vice-chancellor, Peter Coaldrake, had made public statements about the incident and directed new strategies, which did not go far enough in her view. She felt "the critical issue of how to get me back to work and feeling safe once again" was being avoided.
Prior says she was too stressed to meet Kelly at QUT so they met elsewhere, where the director of equity told her and a witness friend "there were only two or three comments that were clear-cut racist"; "you might wanna check out what racial vilification is before you jump in"; and "with the small amount of contact I've had with these students it is very clear that they were not racist". Prior says she felt "physically sick and abandoned"; she "could not understand how or why the students had not already been suspended or disciplined"; and "felt I had been warned off" from taking it further.
On August 1, 2013, Prior described her anxiety and workplace fears to another doctor, who wrote she was "reporting extremely ­severe levels of depression and anxiety, and severe levels of stress". A subsequent medical tribunal assessment concluded Prior was "not feeling good about her identity, her people, or her culture", as she accepted the incident had ended her career.
After going in 2014 to the HRC with her formal complaint against seven students under the Racial Discrimination Act's section 18C, Prior and her Brisbane solicitor, Susan Moriarty, prepared for confidential settlement talks, and commission-sponsored conciliation. The Weekend Australian has established that a number of students in the original legal action, helped by their parents in some cases, paid thousands of dollars to be released from the complaint.
The students strenuously denied being racists or expressing racist views, but before their ­careers had started they feared their reputations and job prospects would be destroyed by anything linking them to the mere ­accusation of racism. The three students left in the case — Wood, Powell and Thwaites, who also deny racism — were not told by the commission until shortly ­before a compulsory conciliation conference in August 2015 that they were accused of racial hatred and faced public naming and shaming. The three students had minimal funds and could not ­afford legal representation. Their lives have been disrupted by the threat of being effectively convicted of racism with all of its attendant ugliness.
The commission ruled last year there was no prospect of a resolution, resulting in the case being advanced to the Federal Circuit Court where the students are being represented pro bono by Tony Morris QC and Michael Henry, both of whom have taken a robust approach to Prior, QUT and the commission over their conduct, evidence and actions. This has led to HRC president Gillian Triggs appointing an external lawyer at taxpayers' expense, Angus Stewart SC, to run an inquiry into allegations that the commission itself had breached the students' human rights, with Triggs and her staff acting "disgracefully" — claims they deny.
For Prior, who faces potentially massive orders for legal costs as Federal Circuit Court judge ­Michael Jarrett prepares to rule on whether her action under section 18C should be dismissed, and her lawyers, the case is black and white. But whatever the hurt and offence she insists she felt in late May 2013 over some Facebook posts, public responses to the subsequent 18C legal action and its demand for $250,000 in damages from the students have been significantly more frank and unsympathetic. Many people believe the students were the victims of ­racism because of their eviction.
The words "free speech" are not a feature of Prior's affidavit, but in the last paragraph she says: "I am deeply disappointed that my private case has now become public, and I have been publicly vilified by people I don't even know or who know me, or who don't know the full story which led to the ending of my career at QUT. Whilst I desperately wanted to return to work it became clear each day that passed that this might never happen. I used to check my email every day to hear from somebody until in the end I just gave up."
SOURCE
*************************
Political correctness is most pervasive in universities and colleges but I rarely report the incidents concerned here as I have
a separate blog for educational matters
.
American "liberals" often deny being Leftists and say that they are very different from the Communist rulers of other countries. The only real difference, however, is how much power they have. In America, their power is limited by democracy. To see what they WOULD be like with more power, look at where they ARE already very powerful: in America's educational system -- particularly in the universities and colleges. They show there the same respect for free-speech and political diversity that Stalin did: None. So look to the colleges to see what the whole country would be like if "liberals" had their way. It would be a dictatorship.
For more postings from me, see
TONGUE-TIED
,
GREENIE WATCH
,
EDUCATION WATCH INTERNATIONAL
,
FOOD & HEALTH SKEPTIC
,
AUSTRALIAN POLITICS
and
DISSECTING LEFTISM
. My Home Pages are
here
or
here
or
here
. Email me (John Ray)
here
.
***************************