His Grace is obviously better at wearing funny hats than he is at heeding Bible teachings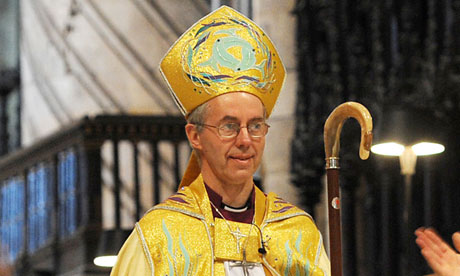 The Archbishop of Canterbury yesterday warned leaders of the Church of England that they must learn to accept the sexual revolution over gay rights.
The Most Reverend Justin Welby said there is hostility to the churches because of their opposition to gay rights and same-sex marriage, adding that some of the criticism was 'uncomfortably close to the bone'.
He said that 'pretending that nothing has changed is absurd and impossible'.
He told the Synod that the change of thinking in the nation was brought home to him when he voted against same-sex marriage in the Lords debate on David Cameron's new marriage law last month.
'The cultural and political ground is changing,' he said. 'Anyone who listened to the Same Sex Marriage Bill second reading debate in the House of Lords could not fail to be struck by the overwhelming change of cultural hinterland.
'The opposition to the Bill was utterly overwhelmed. There was noticeable hostility to the view of the churches.
The Church has been deeply opposed to same-sex marriage legislation, saying that marriage should remain a bond between a man and a woman.
SOURCE
Marry, Marry Quite Contrary
Not long ago, Princeton alumna Susan A. Patton bucked current conventional wisdom by advising women to find a husband in college and get married young. The backlash against this advice was immediate, with expert after expert indignantly citing research "proving" that women who get married young are doomed to lives of poverty and divorce, while women who wait longer to marry will be wealthy and successful. This was the gist of a column in Women's Health magazine, which advised women to wait until at least age 30 to get married. The column was reprinted on the website Healthy Black Woman, offering black women the same counsel.
Well, advocates of later marriage can relax: their dreams are coming true. Men and women are waiting longer than ever to get married. The average age of a first marriage is now 27 for women and 29 for men, and of course a growing number of Americans are not getting married at all. But despite the promises of experts, this trend has not been associated with happier, wealthier families, particularly in the black community.
There is of course nothing inherently wrong with two individuals marrying in their 30s instead of their 20s. But encouraging everyone, particularly black women, to wait until at least age 30 to marry as a matter of principle is terrible advice. Furthermore, the data used to support this advice must be considered in context.
The unfortunate reality is that marriage prospects for black women are at an all-time low. A recent study by Yale University tells us that 42% of black women have never been married, while a study by the National Center for Health Statistics put the number at 55%. Marriage prospects for everyone begin to decline significantly after age 30, and so women (particularly black women) who follow the experts' advice and delay marriage may end up forgoing it altogether.
While it is true that women who marry later make more money, on average, than women who marry young, the real story is a little more complicated. The left-leaning Brookings Institution recently held a forum to discuss the report Knot Yet: The Benefits and Costs of Delayed Marriage. The findings, in a nut shell, were that women who marry later do make more money, but they are not necessarily happier.
The report revealed that married people in their 20s are less likely to be depressed and more likely to be happy than their single (and unmarried but cohabitating) counterparts. Furthermore, women who marry in their mid-20s are more likely to describe their unions as "very happy" after several years than women who marry in their 30s or 40s (or teens).
The income picture is a little more complicated too: while women who marry later do indeed make more money individually, this doesn't mean they actually have higher household income than women who marry younger. This is because men who marry younger make more money than men who marry later, and women who do not marry in their twenties are much more likely not to marry at all. In short, a woman who doesn't marry before 30 may personally make more money than a young wife, but the wife has access to her husband's earnings as well.
Later marriage is also evidence of a larger cultural shift. There was a time when almost everyone believed that sex was supposed to be saved for marriage. This encouraged (or even pressured) young people to follow a pattern: grow up, find someone appropriate and settle down. For most young men, sex was directly associated with becoming responsible enough to persuade a woman that you were worthy of marriage.
Now conventional wisdom recommends that young people wait to marry until they have achieved most of their career goals, gratifying urges along the way with temporary romantic relationships, or even just friends "with benefits." Thanks to this change in behavior, there are now—according to the Centers for Disease Control and Prevention—20 million new STD infections reported each year (at least 110 million infections total), costing at least 16 billion dollars in medical care, not to mention tens of millions of children born out of wedlock. For those responsible enough to delay childbearing along with marriage, infertility becomes a distressing and costly issue. (Black women are now nearly twice as likely as white women to report infertility issues.)
It is time for us to reevaluate the advice we are giving our young people about marriage. For too long we have suggested that delaying marriage is a responsible decision with no downside. But prolonging singlehood has trade-offs, and those trade-offs are long overdue for serious examination and discussion. Would it be such a bad thing if parents, pastors and community leaders focused on preparing both men and women to be mature enough to marry earlier? Perhaps that would be a step in the right direction.
SOURCE
Amanda Vanstone furious as UK press lambast 'misogynist' Australian politics
Colonialist condescension from the British Left. No surprise there. I commented on the rubbish last month
TO suggest Amanda Vanstone is angry would be an understatement. The former South Australian senator from the Howard government is as mad as hell and she is not going to take it anymore.
Her fury is directed at the Fleet Street press in the UK and in particular opinion writers who for the last week have been making broad statements about the Australian male, all but describing them as resting on the evolution chain somewhere between homo erectus and homo neanderthalensis.
The apparent British summation has been coming after prime minister Julia Gillard was ousted as leader, a move many British commentators have blamed solely on the perceived misogynist nature of Australian men generally, and politicians specifically.
Much of the commentary has cited an opinion piece written by Ms Gillard's former Scottish-born media adviser John McTernan who said his boss was driven out of office by "deep-rooted misogynist forces in society" and the Aussie male had brought the country down.
Ms Vanstone arrived on holidays in the British capital this week and was disturbed by what she read each day and yesterday decided enough was enough and began ringing Fleet Street papers to offer a few choice words and offer a column "to set the record straight".
"As the longest serving female Cabinet minister I think I know a thing or two about it," Ms Vanstone told News Corp Australia yesterday.
"I am furious. It really is atrocious that they are making out Australia as a colony, a hick country, a back water where men guzzle beer all day and are rude about women. They are going on this misogynist thing as if that was the reason why she (Gillard) was ousted. That's not right and I want to set the record straight. They are perpetuating the myth.
"I was there in government and Cabinet, it's a bit blokey you know but what do you expect? When they are talking about rugby or whatever they are not being misogynist but what do you want them talking about, cake recipes? They maybe don't know any or are not interested. I mean this is the sort of thing you have everywhere in the world, its not particular to Australia and the British press are suggesting it is."
Ms Vanstone, travelling with her husband Tony, would be staying in the capital long enough to write opinion pieces and or letters to the editors of the British press to paint a "truer picture" of the Aussie bloke from a political perspective.
SOURCE
Australia: Businesses face unfair dismissal cases for sacking thieving staff. Yes, you read that right
Employee theft tends to be far more prevalent than is reported, with many business owners reluctant to report staff with whom they are likely to have developed a close personal relationship.
This type of theft has many guises. It includes theft of property, such as stationery or larger items like computers or power tools, as well as data theft and fraud. But how should small-business owners react in this situation?
Norman Ohl has established and sold a number of small businesses over the years and says he has had many cases – proven and unproven – of employee theft.
"The difficulty is that under current regulations a single case of theft is not grounds for dismissal," he says. "So you must make an assessment and risk analysis on the level of cost to the business and devise a strategy based on risk."
Ohl cites the example of a bookkeeper he once employed who was stealing from an operational cash float.
"This was probably going on for some time as a bookkeeper can cover this type of thing up," he says. "I discovered a shortfall when a foreman rang me with a concern. I confronted the bookkeeper, who cried and pleaded with me not to call the police and not to sack her."
Ohl says that while a dishonest bookkeeper is an unacceptable risk, if he had sacked her he would likely have faced an unfair dismissal case. Instead he gave her the choice to either resign or face criminal charges – her resignation was on his desk within 10 minutes.
"The real tragedy of this 'business decision' is the very real likelihood that she will go on to do it to some other poor bastard and, with this experience under her belt, will probably be a better thief," Ohl says.
"When it comes to employee theft, the system is broken and the system dictates behaviour. The number of employees who have stolen from me over the years would be in the double digits."
Andrew Douglas, principal with M+K Lawyers, says the bottom line is that any theft is a case for summary termination under Fair Work regulations. The problem, however, is in proving it was a theft.
"For most small-businesses owners it is an assumption rather than a fact that an employee has stolen from them," Douglas says. "If they want to prosecute they need to find proof, otherwise the charge will be set aside."
For example, Douglas says there is nothing wrong with installing surveillance cameras above tills to try to obtain proof.
"There are different varieties of theft and this will affect how you go about getting proof," he says. "What you do find is usually the person doing the stealing is in a position of trust, such as in charge of accounts."
There are ways to avoid employee theft, says Douglas. He advises dual signatories on cheques, have the banking done by different people every day, and dual cash handling.
"It's interesting that public companies have to report any thefts because of due diligence but small businesses tend to think of two things before they do," Douglas says. "They think about whether it's worthwhile to report it and quite often they just let the employee go quietly, or they think about the reputational damage it may do to their business and decide not to prosecute because of it."
David Henderson, of professional advisers ROCG, says employee theft is a difficult area to deal with. He has had a number of clients who have been affected and says workplace theft is more prevalent than many realise.
"We had one case where an employee was sacked and provided the opportunity to repay the funds after being caught with their hand in the till, with the police being involved if they didn't," Henderson says.
"In this case the employee committed suicide the next week. This is an extreme example and the business closed within a year as they were devastated by it."
Henderson says it is important to have the right controls and systems in place.
"If two people are working in concert it is difficult to spot a theft happening," he says. "It also tends to go unreported because if you sack an employee for theft without pressing charges you may find yourself with an unfair dismissal case on your hands."
Douglas says the sad part is that when the theft is detected, it is rarely found to be random. "Usually the person has stolen a little bit and when they've got away with it they steal a bit more and a bit more. Having better systems and controls in place can really help."
SOURCE
*************************
Political correctness is most pervasive in universities and colleges but I rarely report the incidents concerned here as I have
a separate blog for educational matters
.
American "liberals" often deny being Leftists and say that they are very different from the Communist rulers of other countries. The only real difference, however, is how much power they have. In America, their power is limited by democracy. To see what they WOULD be like with more power, look at where they ARE already very powerful: in America's educational system -- particularly in the universities and colleges. They show there the same respect for free-speech and political diversity that Stalin did: None. So look to the colleges to see what the whole country would be like if "liberals" had their way. It would be a dictatorship.
For more postings from me, see
TONGUE-TIED
,
GREENIE WATCH
,
EDUCATION WATCH INTERNATIONAL
,
FOOD & HEALTH SKEPTIC
,
AUSTRALIAN POLITICS
,
DISSECTING LEFTISM
,
IMMIGRATION WATCH INTERNATIONAL
and
EYE ON BRITAIN
(Note that EYE ON BRITAIN has regular posts on the reality of socialized medicine). My Home Pages are
here
or
here
or
here
. Email me (John Ray)
here
.
***************************