Doctors and teachers to act as 'informers' to target violent offenders BEFORE they strike
Under controversial new British plans. Judged guilty while still innocent, in other words. Given the appalling abuses of the existing secretive child welfare system this would be a descent into utter darkness. The Leftist British government obviously has a conception of civil liberties not too different from Joseph Stalin's
Doctors, teachers and social workers will be told to act as informers to identify potential violent offenders for monitoring by the police and other agencies. Ministers hope that by spotting binge-drinkers, drug addicts and young gang members early before they commit serious crimes they can be placed on a national database and steered away from offending behaviour. The plans have been dubbed the Minority Report powers, a reference to the 2002 Tom Cruise movie in which a futuristic "precrime" police unit uses psychics to arrest and imprison criminals just before they carry out attacks.
But civil liberty campaigners and union bosses warned that such intrusive measures by the Home Office would destroy the relationship of trust between GPs and their patients or social workers and clients. They would also put professionals at risk of reprisals if they are seen as police informers. Opposition MPs said recent fiascos involving huge quantities of personal data lost or leaked by the Government raised grave doubts over plans for sharing and swapping private data.
The scheme, outlined in the Government's latest Tackling Violence Action Plan, will mean redrafting the NHS's strict privacy protection rules to encourage health staff to share patients' confidential data as part of "public interest disclosures". The document sets out plans for identifying individuals who may not have committed any offences but are judged to be "at risk of involvement in violence". Tell-tale signs of those 'whose behaviour may be identified as risky' include drug addicts or alcoholics, mental health patients and youngsters who join gangs or who have been the victims of violence either in the home or on the street.
Ministers want GPs, social workers, mental health agencies, housing officials and school or college staff to provide tip-offs so that multi-agency Crime and Disorder Reduction Partnerships, including local police, can act. The only existing systems are for monitoring convicted criminals through probation staff, so new organisations will have to be set up to watch those thought to be at risk of committing violence.
Once an individual is assessed as a high-risk potential offender, they would be placed on local and national databases and subjected to regular reviews. The Home Office claims such measures will save lives. Ministers have cited examples such as Michael Stone, convicted of murdering Lin and Megan Russell, or Soham murderer Ian Huntley. They repeatedly came to the notice of medics or police, but lack of data- sharing meant threatening patterns were missed. The Home Office said examples of "interventions" for potential criminals included regular visits from social services staff, providing mentors to young people, forcing them to attend weapons awareness classes or more after-school activities to keep them off the streets.
Union officials voiced grave concerns and accused ministers of failing to consult professionals or to address concerns they had already raised. A spokesman for Unison, the public services union, said: "These plans threaten to build a barrier of suspicion between the public and those who deliver their services."
Shadow Home Secretary David Davis said: "This is another ill-thought through measure, no doubt based on flawed databases and unreliable statistical analysis." Shami Chakrabarti, director of human rights group Liberty, said: "Home Office edicts are unlikely to help skilled health professionals make delicate judgments on behalf of their patients. The danger is of vulnerable victims treating their own injuries for fear of being reported to the police."
Source
Antichrist Canadian Bishops put homosexuality way ahead of the Bible
They are are threatening forcible action in an attempt to ram their Satanic doctrines down the throats of Anglicans who follow Bible teachings. Their conception of ethics would certainly not be recognized by the teacher of Nazareth
In the face of growing defection by traditionally minded Christian Anglican congregations, the Anglican bishop of British Columbia has told clergy and lay leaders that parishes attempting to seek oversight from other jurisdictions will face penalties, including loss of clerical licenses and properties. The bishops of the Anglican Church of Canada are overwhelmingly in support of homosexual activity and the "blessing" of same-sex relationships and ministers; however, bishops and laity who continue to adhere to the Christian doctrines on sexuality are seeking a way to remain within the Anglican Communion.
The Rt. Rev. James Cowan wrote that such attempts by parishioners would be "schismatic" and a betrayal of a "fiduciary trust" to the diocese and would result in the "immediate termination of license or removal from office." Clergy "acquiescing in" or "actively promoting" the withdrawal of parishes would be dismissed from office without "notice or severance," he wrote.
The problem, however, is growing, as more parishes in the Anglican Church of Canada seek oversight from sections of the Worldwide Anglican Communion that have retained their adherence to Christian doctrine on scriptural authority, homosexuality and the meaning of marriage. In the last week, a total of seven parishes of the Anglican Church of Canada have voted to seek jurisdiction elsewhere.
Parishioners of St. Alban the Martyr in Ottawa voted this weekend to sever their associations with the Anglican Church of Canada and seek oversight from Bishop Don Harvey, who is overseeing the traditional Canadian churches in their realignment with Archbishop Gregory Venables and the Anglican Province of the Southern Cone in South America.
Parishioners at Vancouver's St. John's Shaughnessy, the largest Anglican congregation in Canada, voted last Wednesday to sever ties with the Archbishop of New Westminster, Michael Ingham, over his support for same-sex blessings. This was followed by a decision to follow suit by parishioners at St. Matthew's Anglican parish in Abbotsford, BC, St. Mary of the Incarnation in Metchosin on Vancouver Island, St. Chad's parish in Toronto, St. Hilda's, in Oakville and St. George's, in Campbellville, Ontario, bringing the total to seven by the end of Sunday.
Rev. Peter Elliott, spokesman for the Diocese of New Westminster told the Ottawa Citizen that there is broad acceptance of homosexuality in the Anglican Church in BC because homosexuality is "morally neutral". But Rev. Andrew Hewlett of St. Mary of the Incarnation, said that homosexuality is only a symptom of the larger problem. "The real issue underlying it is how we view the authority of the scriptures - and our concern about the [ACC's] changing of theology, which is putting it outside of the official teaching of the global Anglican community."
St. Mary's rector, Rev. Sharon Hayton, and Rev. Hewlett, were informed on Friday that disciplinary action was being commenced against them. Bishop Cowan wrote that Hayton and Hewlett were "inhibited" from their clerical offices. "[Y]ou may not function as an ordained priest, and may not act as. priest of the parish of St. Mary of the Incarnation, Metchosin." He forbade them from discussing the situation with parishioners and from entering the parish premises.
Rev. Simon Chin of St. Matthias & St. Luke Church in Vancouver told the National Post he expects his parish will also vote to separate on February 24. "For the last six years we have been calling for help [from the ACC], but they've not done anything," he said. "Our people in our church are the ones pushing all of this because they feel we don't have a home here."
The letter from Bishop Cowan was followed by another from the Anglican Primate of Canada, Archbishop Fred Hiltz, who wrote Friday, "Individuals who choose to leave the church over contentious issues cannot take property or other assets with them." "My hope is that no parish will take action that would compel parish or diocesan leaders to resolve property disputes in the civil courts," Hiltz continued.
But a spokesman for St. John's parish in Shaughnessy, a neighbourhood of Vancouver where real estate values are among the highest in the country, told media that the parish is willing to fight for their church, saying its building was independently incorporated and built with local members' funds.
The parish has collected $1 million in legal funding. "We would defend the building. We would continue our services. I suppose if we couldn't get into the building, we would hold our services out on the grass or something like that," spokeswoman Lesley Bentley told the National Post.
In 2002, the Diocese of New Westminster, British Columbia voted to permit the blessing of same-sex unions by parishes requesting authorization to do so. Since then the bishop of that diocese, Michael Ingham, has issued several warnings to his clergy attempting to force compliance, and has ordered the locks changed on buildings with "dissenting" parishioners.
Source
We don't need to define Britishness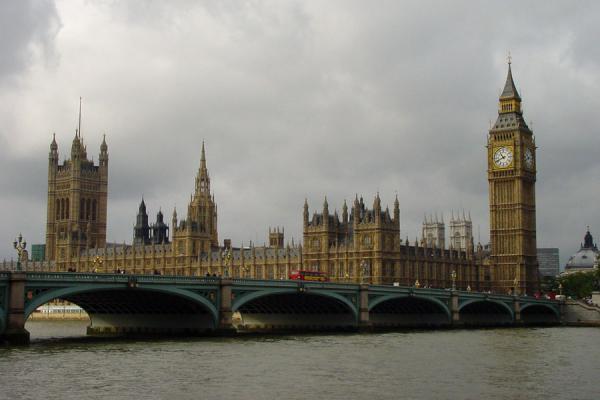 British national identity is becoming more and more like the weather: everybody talks about it but nobody can do anything about it. And come to think of it, it is especially like British weather: so tepid most of the time that it is difficult to describe.
This is not necessarily a problem: having a sense of your own country's character as a vague, largely invisible thing which hums away quietly in the background. Until, of course, the woolly, taken-for-granted conception is challenged by an internal threat which makes use of precisely that amorphous lack of definition to create malignant - potentially lethal - social divisions
And that is where we find ourselves. Last week's report from the Royal United Service Institute went so far as to say that Britain's lack of clear conviction over the value of its identity and political culture had left it a "soft target" for terrorism - which is not the same thing as being soft on terrorism, as some sections of the media concluded. The British security services are among the few national agencies not lacking a clear set of objectives. They are not soft on terrorism.
The real argument of the RUSI study was that Britain was leaving itself open to the recruitment of Islamist terrorists by its failure to instil a confident, graspable sense of what this nation believes and stands for, and of what exactly it means to belong here. In fact, the defence experts said - as have so many others that by now the statement has become almost platitudinous - that the philosophy of multiculturalism and the diversity which it has consciously encouraged have helped to fragment society.
So officially, everybody is pedalling furiously away from multiculturalism. Not only government ministers and opposition leaders but even figures such as Trevor Phillips of the Equality and Human Rights Commission have proclaimed the need to dismantle it. But somehow all of this opprobrium does not filter down to the classroom or to public sector agencies (such as the BBC, local government bureaucracies and the NHS), which are still explicitly committed to "diversity programmes" that positively encourage the continuing separateness of ethnic communities.
It would be easy to see this as simply an accident, a kind of absent-minded philosophy creep in which the original good intentions just got out of hand, as things so often do when they are administered by bureaucrats. So deeply entrenched - and so embedded in the employment practices of the public sector - was the idea of "tolerating differences" that nobody noticed for the longest time that it had slipped over into "encouraging differences".
If that were the case, this would be a relatively easy problem to solve: a few stern ministerial guidelines and departmental directives ("URGENT: the word 'diversity' to be replaced by 'unity' in all official policy pronouncements") could, over a period of a year or two, turn the situation round. But everybody recognises that it is not that simple. Which is to say that everybody knows that we have a far more profound dilemma: Britain does not have a unified, coherent, identifiable self-image, either as a people or as a political entity, which it can offer to incomers as an inspiration and a ready-made value system.
There is a reason why all the attempts to define Britishness seem to end in fatuity: not only because they dribble off into nebulous virtues such as tolerance and decency, which should be common to all civilised people, but because the British opinion-forming classes tend to find the whole concept of national identity either sinister or risible. And it is perfectly plausible to see this as a virtue: a strong, cohesive sense of national loyalty certainly can transmogrify into blood-and-soil nationalism of a horrifying kind, and the ironic distance which the British maintain from even their most important historical institutions has the unmistakeable ring of grown-up wit.
Even in my more sentimental American-expatriate moments, I can see why, to most British eyes, flag-waving US patriotism seems childlike and naive. In many respects, the American model is peculiarly unhelpful, even though it is the one to which Gordon Brown and now Jack Straw cleave as they desperately seek a way out of the crisis that their own party's policies have created. Mr Straw hinted only last week that perhaps the written constitution idea was the way out of our mess since it seemed to be so successful in the US at implanting what he called an "enviable notion of civic duty". Indeed it does. But that is there, and we are here.
Americans are unlike almost all other peoples of the world in that they all either are themselves, or are descended from, people who went to the country as an act of will (apart from those who were taken there against their will whose descendants, unsurprisingly, have had more difficulty in assimilating than almost all later migrant groups). This makes them ideal subjects for the great 18th-century Enlightenment experiment: a newly invented country with a carefully devised written constitution and a self-conscious assumption of an identity that was defined in deliberate rebellion against an old aristocratic order.
To settle in the US is, in effect, to sign the "social contract" that the founding fathers envisaged: accept the rules and the principles on which this country is established and you can belong here. That's the deal that is spelt out very clearly to every prospective citizen and, for the most part, it works. Older nations that chose to redefine themselves by overthrowing their history - such as France, where the revolution turned into the Terror - have had less happy results.
Britain is particularly ill-suited to adopting the apparatus of a revolutionary republic. You know what a Brown-Straw (not to say Cameron) written constitution would look like, don't you? A list of bland aspirations with a presumptuous and irritating "Bill of Rights" attached.
Britain's historical identity has been produced by accretion, subtle accommodation and fudge: to define it is impossible because it has had no consistent conscious intent. Which is fine, because we don't need to define ourselves, we just need to stop hating ourselves.
[Or having self-hatred preached at us]
What is at the heart of the aggressive form of "multiculturalism", as most ordinary people suspect, is not tolerance but self-loathing: the deprecation of our own culture and history that elevates almost anybody else's values above our own. It is not the indoctrination of some mystical sense of Britishness that is required but a restoration of the quiet pride and conviction that used to enable Britons to maintain the highest standards of civil behaviour in the world.
Source
Australia: Muslim versus anti-Muslim youth gangs
Another triumph of multiculturalism
A TEEN bashed with a tomahawk is fighting for his life as youths warn of a Cronulla-type gang explosion in Melbourne. Sunshine Hospital was forced to call police and shut its emergency department as about 100 youths descended, angered by the brutal attack on their friend. In another unprecedented escalation of gang violence, a molotov cocktail was hurled on a suburban train last week. More attacks were pledged as part of a bitter conflict between two of Melbourne's biggest gangs that has seen 10 youth stabbings.
Police are demanding measures to stem the growing scourge of youth gang activity. They want a Youth Crime Taskforce established, new anti-assembly powers to break up loitering crowds of teens and portable knife scanners. Shopping centres and rail operators are also changing their operations to cope with the rising gang challenge.
Four men have been charged with attempted murder and serious assault over the attack on the 17-year-old on Friday. The teenager and four friends were "pulverised" in the St Albans attack. Their assailants - one 16 - allegedly used a tomahawk, baseball bats and hockey sticks in the violence, destroying their car and putting the five in hospital. One of the teens caught in the attack said the violent onslaught had been triggered by them being on someone else's turf. The teen, who would not give his name, had facial bruising and injured ribs and described the attack as ruthless and against innocent victims. As well as being territorial, he said the attack was carried out for fun.
Police, social workers and even gang members said gang violence was flaring across Melbourne's suburbs. The Police Association - representing 11,000 officers - said the youth gang crisis demanded a regional taskforce on youth crime and anti-assembly powers. "They're under-18 and they're coming in from the outer suburbs and causing mayhem in the city and the inner suburbs," assistant secretary Bruce McKenzie said. "This is happening. And we do know it's of considerable concern to our members." The association is expected to lobby Premier John Brumby for anti-assembly powers to break up big groups of teens and expressed a desire for British-style portable walk-through metal scanners.
In an escalating stoush between two of the city's biggest gangs, an Arab coalition from Melbourne's north was seething over a rap song released by enemy gang South-East Boys, threatening "another Cronulla". The song, Lullaby, derides the Dandenong gang's Arab enemies as "p*****s" and threatens a local Cronulla-style race clash.
Gang members said the rivalry between the north and south gangs had already led to 10 stabbings. "Give it tomorrow, give it a year. We will hit back 10 times harder," said Ronni, leader of northern gang ASAD or Arabian Soldiers Arab Defenders. Gang members are aged 17 to 26 and brawl with machetes, bottles, poles, knuckle-dusters and knives. The North-West Boys, who have a distinct double-fist handshake, are made up of gangs including ASAD, which has spread from Newport, and The Clan.
The North-West Boys said their opposing gang, based around Dandenong, was a mix of white "Aussie bogans", Sudanese, Afghans, Italians and Greeks. "We were hunting them for almost seven hours," The Clan leader Hash said. "If the South-East want war, then so be it." The gangs have sophisticated fight strategies and youths are attacked if they stray into another gang's side of the city. "Something in the future is going to happen to them," Ronni said. Hash said they tried to isolate their activities so members of the public would not get hurt.
Source
*************************
Political correctness is most pervasive in universities and colleges but I rarely report the incidents concerned here as I have
a separate blog for educational matters
.
American "liberals" often deny being Leftists and say that they are very different from the Communist rulers of other countries. The only real difference, however, is how much power they have. In America, their power is limited by democracy. To see what they WOULD be like with more power, look at where they ARE already very powerful: in America's educational system -- particularly in the universities and colleges. They show there the same respect for free-speech and political diversity that Stalin did: None. So look to the colleges to see what the whole country would be like if "liberals" had their way. It would be a dictatorship.
For more postings from me, see TONGUE-TIED, GREENIE WATCH, EDUCATION WATCH INTERNATIONAL, FOOD & HEALTH SKEPTIC, GUN WATCH, SOCIALIZED MEDICINE, AUSTRALIAN POLITICS, DISSECTING LEFTISM, IMMIGRATION WATCH INTERNATIONAL and EYE ON BRITAIN. My Home Pages are here or here or here. Email me (John Ray) here. For times when blogger.com is playing up, there are mirrors of this site here and here.
***************************