Jordan Peterson calls it like it is again
Below is the woman whom Peterson described so frankly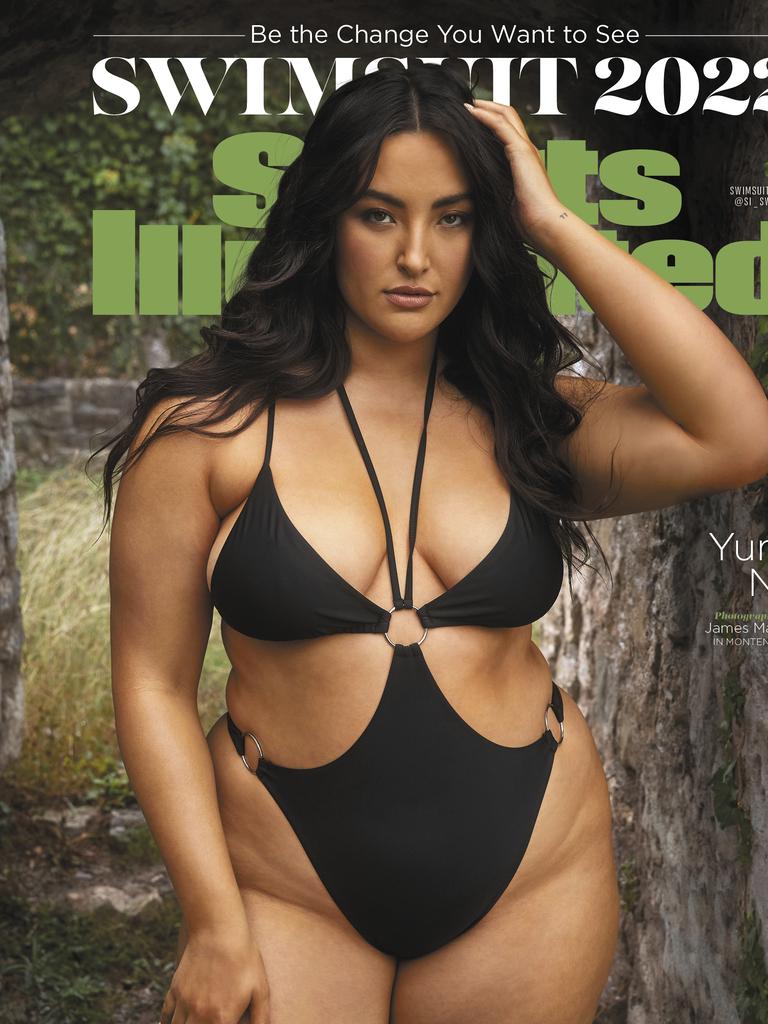 Each to his own, of course, but below is the sort of figure I enjoy most in my arms. Fortunately I get it. Despite her years, my girlfriend does have a figure similar to that. She runs for miles every day to maintain it
A controversial psychologist and best-selling author has sparked outrage after declaring a Sports Illustrated model "not beautiful".
Dr Jordan Peterson, 59, took to Twitter to shame plus-size model and musician Yumi Nu after she appeared on the magazine cover. "Sorry. Not beautiful. And no amount of authoritarian tolerance is going to change that," he wrote to his 2.7 million followers.
"Sheesh. Big fan here. I find my girlfriend with a body type like this quite beautiful. Dial it back a bit homie," one man wrote.
"Sorry. Not beautiful. And no amount of authoritarian tolerance is going to change that," wrote another alongside a photo of Peterson.
"Why do men feel it's their duty to publicly pronounce their view on the attractiveness of women? Couldn't you just keep it to yourself?," added another woman.
The model featured on the cover did not seem fussed about the comments made by Peterson - who has made a name for himself by railing against everything from feminism to social justice warriors.
Dr Peterson has a checkered history in both his private and public life, having developed a dependency on prescription medication and being admitted to rehab following his wife's cancer diagnosis.
He was thrust into the mainstream after a video of him arguing with students and refusing to refer to them as their chosen gender pronouns went viral online.
He leveraged his newfound fame by injecting himself into the Canadian debate over transgender rights.
His 2018 self-help book 12 Rules for Life: An Antidote to Chaos - which encouraged readers to stand up straight, not bother children skateboarding and avoid petting stray cats - sold more than three million copies worldwide.
Dr Peterson has repeatedly been criticised for his old-fashioned views on women and accused of spreading misinformation.
Peterson also pushed against Covid-19 vaccines and restrictions in Canada, in one instance claiming the Canadian PM would have to kill him before getting a booster.
33 Shot, 5 Dead… Bodies are Everywhere
The mass shooting in Buffalo this weekend got all the media, but what happened in Chicago was just as bad.
The moment it was reported that the shooter was a white supremacist, we all knew that story would take on a life of its own.
What most people never saw reported, however, was that 33 more bodies hit the ground in Chicago over this weekend, five of them losing their lives.
By no means am I trying to downplay what happened in Buffalo. It was a disgusting attack by an appalling individual.
I do have a question, however. That would be why nobody is outraged over the dozens of shootings and five lost lives that took place in Chicago this weekend, a scene that plays out virtually every weekend.
Among the fatalities in Chicago were three teenagers aged 16, 17, and 19.
Ironically, the uptick in violence occurred on the weekend after Lori Lightfoot demanded a "call to arms" over the leaked SCOTUS brief. I would appear as though the people of Chicago heard her.
New York: Two Washington-based groups representing Google, Facebook and other tech giants filed an emergency application with the Supreme Court, seeking to block a Texas law that bars social media companies from removing posts based on a user's political ideology
The Texas law took effect on Wednesday after the US Court of Appeals for the 5th Circuit in New Orleans lifted a district court injunction that had barred it. The appeals court action shocked the industry, which has been largely successful in batting back Republican state leaders' efforts to regulate social media companies' content-moderation policies.
In their filing to the Supreme Court on Friday, Washington-time, NetChoice and the Computer & Communications Industry Association (CCIA) argue that the law violates the US Constitution and risks causing "irreparable harm" to the internet and businesses, according to a news release.
The law "strips private online businesses of their speech rights, forbids them from making constitutionally protected editorial decisions, and forces them to publish and promote objectionable content," NetChoice counsel Chris Marchese said in a statement.
"Left standing, [the Texas law] will turn the First Amendment [which guarantees freedom of expression in the US] on its head -- to violate free speech, the government need only claim to be 'protecting' it."
The application brings before the nation's highest court a battle over the future of online speech that has been roiling policymakers in Washington and in statehouses.
As elected officials across the country increasingly call for regulation of Silicon Valley's content-moderation policies, they're colliding with the First Amendment, which prohibits the government from regulating speech.
The application was filed with Justice Samuel Alito, who was nominated to the court by Republican President George W. Bush.
The Texas law, which was signed by Governor Greg Abbott in September, reflects a growing push by Republicans in statehouses -- while they remain in the minority in Washington -- to advance their accusations that tech companies are biased against their ideology.
The law enables Texas residents and the state's attorney general to sue social media companies with more than 50 million users in the United States if they believe they were unfairly banned or censored. The law also requires tech companies, including Facebook and Google's YouTube, to build a complaint system so that people can challenge decisions to remove or flag illegal activity.
The law was initially blocked from taking effect by a federal district judge. But in a surprise decision on Wednesday night, the appeals court lifted the judge's temporary injunction -- allowing the law to come into force while a lower court continues to litigate its merits. In filing the emergency application to the Supreme Court, the tech trade groups are seeking to vacate that decision.
The law reflects conservatives' long-running claims that Silicon Valley social media companies are "censoring" them. The companies deny those accusations, but the charges have become central to Republicans' political messaging.
Elon Musk's recent accusations that Twitter has a "strong left-wing bias" amid his takeover of the company have only fuelled these claims.
Florida last year passed a similar social media law, which was blocked from taking effect. The US Court of Appeals for the 11th Circuit heard the state's appeal last month but has not ruled.
Legal experts and tech groups have largely argued that such laws run afoul of the First Amendment. They also warn that they could make it more difficult for companies to remove harmful and hateful content.
"No online platform, website, or newspaper should be directed by government officials to carry certain speech," CCIA President Matt Schruers said in a statement to The Washington Post. "While views may differ on whether online platforms should host viewpoints like hate speech or Nazi propaganda, the First Amendment leaves that choice to private citizens and businesses, not bureaucrats."
Texas appeals court reinstates law prohibiting social media companies from banning users over political views
A federal appeals court in Texas has reinstated a Republican-backed Texas law that prevents large social media companies from banning users over their political views.
The 5th U.S. Circuit Court of Appeals panel did not explain its reasoning for granting the state's request for a stay of a December order from a federal judge. The order also did not evaluate the law on its constitutionality. It merely allows the law to go back into effect while the case continues in the lower district court.
The decision is a win for Republicans who have accused social media platforms like Facebook and Twitter of being biased against conservatives. A flashpoint on the issue came when Former President Donald Trump's Twitter account was permanently suspended days after he was accused of inciting the Jan. 6 riot on Capitol Hill.
The law, known as HB 20, requires social media platforms with more than 50 million monthly users to publicly disclose information about content removal and account suspensions.
Texas Attorney General Ken Paxton's office praised the appeals court's decision, calling it a "BIG WIN against BIG TECH."
The tweet went on to say, "The 5th Circuit made the right call here, and I look forward to continuing to defend the constitutionality of #HB20."
Two industry trade groups that represent companies like Google and Twitter sued to block the law last fall.
A judge then ruled in favor of the groups, blocking the law while the lawsuit continues, saying the First Amendment protects a company's right to moderate content, according to The Texas Tribune. AG Paxton then appealed the judge's decision.
Florida is also appealing a ruling against a similar law.
Censorship on social media has taken center stage in recent months after billionaire Elon Musk moved to buy Twitter and vowed to make changes to how the social media giant operates. Conservatives have cheered the move.
Musk has said he would allow Trump back on Twitter once his purchase of the company is complete. Trump, however, has previously said he will not go back to the platform and will instead stick to his own Truth Social platform.
******************************************************
My other blogs. Main ones below:
http://dissectleft.blogspot.com
(DISSECTING LEFTISM)
http://edwatch.blogspot.com
(EDUCATION WATCH)
http://antigreen.blogspot.com
(GREENIE WATCH)
http://australian-politics.blogspot.com
(AUSTRALIAN POLITICS)
http://snorphty.blogspot.com/
(TONGUE-TIED)
*****************************************