Unusual Pastors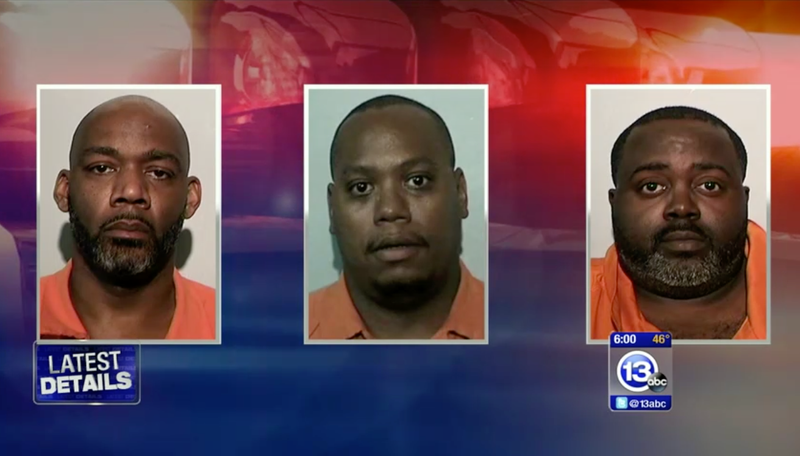 A third Ohio pastor has been indicted on charges of sex-trafficking a minor, and now all three men face new charges in the case after a federal grand jury indicted the Rev. Cordell Jenkins, the Rev. Anthony Haynes and the Rev. Kenneth Butler on conspiracy to sex-traffic children.
According to the Associated Press, all three men pleaded not guilty Tuesday.
The U.S. attorney's office says that Haynes began grooming a 14-year-old girl for prostitution back in 2014. Haynes then introduced her to other men. All three of the pastors sexually assaulted the child, authorities said.
Jenkins and Haynes were arrested by FBI agents earlier this year and were initially accused of knowingly recruiting, enticing, harboring, transporting, providing or obtaining a person under the age of 18 for sex trafficking.
An affidavit indicated that Haynes engaged in sex acts on multiple occasions with a then-14-year-old girl, recording some of the encounters and then paying the teen to remain silent, telling her that she could ruin his family and his church. Haynes then allegedly introduced the girl to other men, including Jenkins, who also paid the girl to have sex, officials say.
Jenkins is also accused of paying for sex acts with another underage girl.
Butler is charged with trafficking a third underage girl between 2015 and March of 2017. That girl told investigators that she met Butler at Haynes' church when she was 15 and that he would give her rides to his church in the Detroit area. The girl told authorities that she had sex with Butler in his car twice and that he later gave her money. He allegedly later told her to lie to the FBI if she was questioned about him.
"These three men violated the trust of these children and the communities they purported to serve," U.S. Attorney Justin E. Herdman said in a news release, according to the Toledo Blade. "We are grateful for the courage of the victims and the dedication of our law-enforcement personnel in bringing these men to justice."
Both Haynes and Butler are also facing charges of obstruction of a sex trafficking investigation. Haynes is accused of attempting to destroy electronic evidence of sex trafficking, while Butler is accused of instructing another individual to lie and then lying himself to law enforcement about his involvement.
Butler, who was not part of the original indictment, was also indicted on two counts of sex-trafficking children and one count of obstruction of a sex trafficking investigation.
If convicted, prosecutors would recommend life in prison, Michael Freeman, an assistant U.S. attorney, told the Blade.
SOURCE
Israel hatred and Rock musicians
Rogers Waters and Brian Eno have hit back at Australian musician Nick Cave after he accused the rock icons of trying to "bully" and "censor" him, and other musicians, over his current Israel tour.
Waters and Eno – prominent supporters of the Boycott, Divestment and Sanctions (BDS) movement, which lobbies artists to sever ties with Israel in protest of its occupation of Palestine – have called on Cave to join the boycott.
At a press conference in Jerusalem on Sunday, Cave said he decided to perform in Israel as a "principled stand" against BDS activists.
"On a very intuitive level I did not want to sign that [boycott], there was something that stunk to me about that list," Cave said on Sunday.
"It suddenly became very important to make a stand against those people that are trying to shut down musicians, to bully musicians, to censor musicians and to silence musicians.
"At the end of the day, there are two reasons why I am here. One is that I love Israel and I love Israeli people, and two is to make a principled stand against anyone who wants to censor and silence musicians.
"So really, you could say in a way that the BDS made me play Israel," he added.
In Tuesday's statement, Waters responded to Cave's comments with sharp criticism.
"I read Nick Cave's press conference statements with a mixture of sorrow, rage and disbelief," Waters said, mocking Cave's accusations of censorship.
"What if it was your demolished home? Your invaded country? Your villages razed to the ground to build stadiums for the invaders to promote pop concerts on?
"We hurl our glasses into the fire of your arrogant unconcern, and smash our bracelets on the rock of your implacable indifference," he added.
Eno, the former Roxy Music synth player and ambient music producer, noted Cave's "generous" support for Palestinian humanitarian causes, but said the artist had fallen into Israel's "propaganda campaign".
"It's nothing to do with 'silencing' artists – a charge I find rather grating when used in a context where a few million people are permanently and grotesquely silenced," he said.
The BDS movement has drawn support from the likes of U2, Snoop Dogg, Bjork, Lauryn Hill and Elvis Costello, who all cancelled gigs in Israel.
Yet a long list of artists, including Metallica​, Madonna, Elton John, Rihanna, Ozzy Osbourne and others, have continued to perform in Israel.
In July, Radiohead performed their longest concert in more than 10 years in the Israeli city of Tel Aviv, following a bitter public back-and-forth with Waters.
SOURCE
Support for Air Force Colonel Takes Off
Air Force Col. Leland Bohannon needed reinforcements — and thanks to eight senators, he got them. The Christian combat pilot has been grounded since spring, when his superiors decided that the colonel's decision not to sign a "certificate of appreciation" for a same-sex spouse was enough to suspend him from duty.
For Bohannon, a 20-year veteran with a distinguished record, it was a stunning blow. After all, Bohannon, who'd sought the counsel of a command chaplain and staff judge advocate, had asked for a religious accommodation. He got a poor performance appraisal instead. On track to lose his standing and any hopes of promotion, Bohannon reached out to First Liberty Institute for help. Knowing "his career is likely over" if nothing's done, conservatives everywhere have teamed up to raise the colonel's case.
At least eight U.S. senators are pitching in to help. In a letter to Air Force Secretary Heather Wilson (reported on by Fox News's Todd Starnes), Senators Roy Blunt (R-MO), James Inhofe (R-OK), John Kennedy (R-LA), James Lankford (R-OK), Mike Lee (R-UT), Marco Rubio (R-FL), Roger Wicker (R-MS) and Ted Cruz (R-TX) ask the branch chief to step in and save Bohannon's career.
"Col. Bohannon has suffered severely on account of the [Equal Opportunity] investigator's mishandling of his religious liberty rights," the senators wrote. "The Air Force owes it to him to see that justice is restored, along with his good name." After all, they explain, the colonel did all he could to guarantee that the certificate was signed — just not by him. "Col. Bohannon recognized the moral and legal dilemma this situation presented, and to his credit, sought to carve out a solution that would affirm the contribution made by the retiring officer's same-sex partner while at the same time allowing the colonel to abide by his religious convictions," the senators point out.
"The Air Force's refusal to accept this compromise and its refusal to grant an accommodation — when doing so would cause no discernable harm — raises the question as to which circumstances, if any, would move the U.S. Air Force to defend the free exercise rights of its soldiers." Like us, they're asking the Air Force to overturn this decision and reinstate Bohannon in the good standing his record deserves.
SOURCE
History enthusiast branded a Nazi and loses his job
YORK, Pa. — Chad Eisenhart glanced at the image on his phone: a white, beefy face, partially obscured by ski goggles. The man wore a military-style helmet, backpack, and white polo shirt and was marching in loose formation with other men in helmets.
Charlottesville, Eisenhart quickly realized.
He looked closer with growing unease. The marcher looked familiar, like one of Eisenhart's employees at Carryout Courier, a small business that shuttles pizza and hot food to the residential doorsteps of York.
Eisenhart's social media manager, who sent the photo, had included a message: "Is our driver Bob a [expletive] Nazi?"
Now, in an instant, Eisenhart was forced to confront, in a stunningly personal way, one of the most stomach-churning events since Trump's rise to power: his own employee, a local resident wearing white nationalist garb in Charlottesville and marching in public with racists and anti-Semites.
Eisenhart said he didn't know about Martin's shifting outlook, that his employee had kept that side of his life a secret at work. But as images of Martin marching in Charlottesville quickly spread on social media, a public outcry engulfed Carryout Courier.
Events of the summer would leave Eisenhart stung by the dizzying speed with which people across the country, strangers mobilizing on the Internet, attacked him and his 20-year-old local business.
Martin had begun participating with the Chesapeake Volunteer Guard, a group of reenactors from the mid-Atlantic that plays both Union and Confederate soldiers. Martin worked hard at being authentic. He sported a new pair of "brogans," a style of boot common during the war. He purchased an 1861 Springfield musket and accumulated a wardrobe of period clothing.
His former friends in the group say that when he first joined up about a decade ago, he was jolly and helpful. If they needed someone to cook the meals, he was the first to volunteer. If they needed a trench dug, he was ready to do it.
"He wasn't racist, he wasn't political. He wouldn't talk politics around the campfire. He would talk history," said Joshua Mason, a former friend who was shocked to learn that Martin took part in the Charlottesville march. "The person I knew then and the person he is now is completely different."
Martin can be seen marching in loose formation as someone shouts, "Black lives do not matter!" Another video shows him joining a defensive perimeter around the statue of Robert E. Lee, which was the focal point of the white supremacist demonstration. A third clip shows him jostling with counterprotesters, with an anxious look on his face, as Charlottesville's Market Street turned into a melee filled with tear gas and people beating one another with sticks.
None of the hours of video footage reviewed by the Globe show Martin joining in the violence. In fact, he often looks out of place, glancing around with uncertainty and his mouth often gaping open as he appears to gasp for air.
After learning Monday morning of Martin's participation in the march, Eisenhart had to figure out quickly how to respond.
His decision came with surprising ease — before he'd even talked to Martin. Eisenhart realized that what he thought about Martin's political views didn't really matter.
"We are not in the business of righting the world and its beliefs," he wrote to his social media manager, about 10 minutes after getting her first text about Bob. "If we evaluated what was in each employee and customers head and made business decisions from that, I would be my only customer."
As much as he was repulsed by his driver's beliefs, Eisenhart decided he would stick by Martin's constitutional right to hold and express them. Once you start down the road of firing people for their beliefs, where does it stop?
The criticism built. Eisenhart's mother was even approached about the controversy at church.
"At some point, the public pressure became too great," he said.
He again called Martin into his office and vented. "I'm getting pushback and pressure on this. What do you think I should do?" he said he asked Martin.
"I think you should let me work here," Martin replied, as Eisenhart recalled it. "I didn't do anything against the job."
"I agree with you, dude," Eisenhart said. "You should be able to have your opinions."
Martin resigned. Eisenhart would not say whether it was offered or forced.
Eisenhart is still rattled months later. He used to relish nights watching Stephen Colbert or Seth Meyers make fun of Trump. He has been a regular listener of the liberal podcast "Pod Save America," hosted by a trio of former Obama aides.
But now he's tuning those voices out. "Somehow Trump rides everything out, and doesn't let it bother him," he said. "Why can't I?"
Maybe Trump's criticism of the media has a point, he now thinks. Perhaps things can get out of context and out of hand.
"I was attacked for something I didn't believe in," he said. "It felt like a lot of pressure against me and implying something I didn't believe in."
"When I look at all these other activists trying to drum up and get hoopla on policies — it's hard for me to get behind them because I think, 'Wait a minute I was targeted,' " he added. "Maybe these people are being unfairly targeted. Maybe I need to hear their side of the story more."
SOURCE
*************************
Political correctness is most pervasive in universities and colleges but I rarely report the incidents concerned here as I have
a separate blog for educational matters
.
American "liberals" often deny being Leftists and say that they are very different from the Communist rulers of other countries. The only real difference, however, is how much power they have. In America, their power is limited by democracy. To see what they WOULD be like with more power, look at where they ARE already very powerful: in America's educational system -- particularly in the universities and colleges. They show there the same respect for free-speech and political diversity that Stalin did: None. So look to the colleges to see what the whole country would be like if "liberals" had their way. It would be a dictatorship.
For more postings from me, see
TONGUE-TIED
,
GREENIE WATCH
,
EDUCATION WATCH INTERNATIONAL
,
AUSTRALIAN POLITICS
and
DISSECTING LEFTISM
. My Home Pages are
here
or
here
or
here
. Email me (John Ray)
here
. Email me (John Ray)
here
.
***************************