Canada: What we learned at last weekend's "political correctness" debate, starring Jordan Peterson
The Munk debates are not monk debates. They are a dignified Canadian phenomenon. With immodesty unusual in Canada they announce themselves as: "The Munk Debates are the world's preeminent public debating forum. From gender and geopolitics, to nuclear weapons and neoliberalism, the Munk Debates tackle the most important questions of our time with passion and critical thought"

They are prestigious within Canada and attract a large paying audience so are very orderly and civilized. They often feature well-known speakers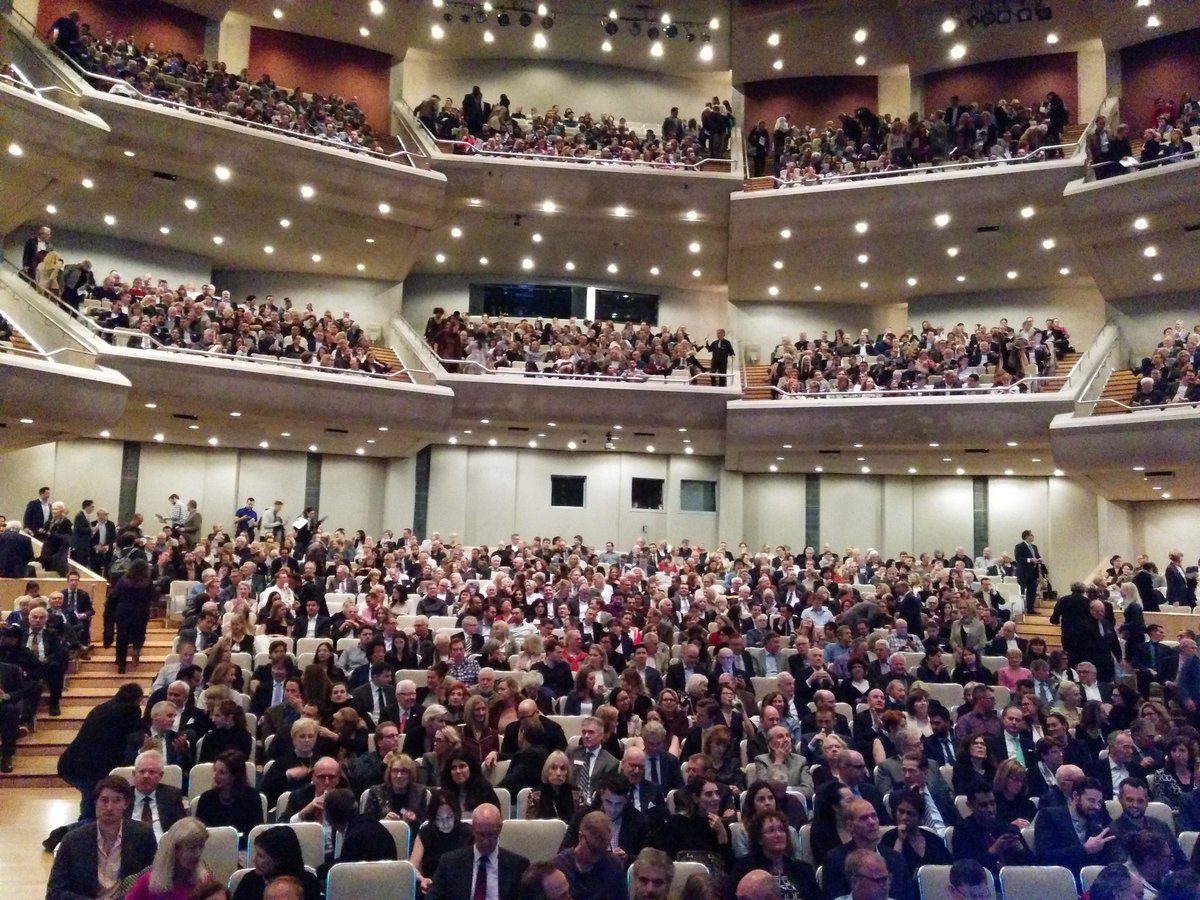 Venue: The Roy Thompson hall
On Friday, the city's culturatti spent the first night of the May 24 weekend packed into Roy Thomson Hall for the latest Munk Debate, where the topic couldn't possibly have been more timely: "Be it resolved that what you call political correctness, I call progress." On the pro side: New York Times columnist Michelle Goldberg and African-American academic and author Michael Eric Dyson. Arguing against: British thespian Stephen Fry and Jordan Peterson, who became the Justin Bieber of internet free-speech zealots after he posted YouTube lectures decrying PC culture on university campuses. The debate was moderated by Munk Debates chair Rudyard Griffiths.
All four debaters presented impassioned, intermittently effective, occasionally off-topic arguments. But who won? Who came to blows? And which two debaters should definitely be starring in a postmodern buddy cop movie? Here's what we learned:
Toronto's elite are anti-PC
Upon entering RTH, the crowd was asked to fill out a survey where they voted for or against the resolution. Going into the debate, 36 per cebt of attendees agreed that political correctness was a form of progress, while 64 per cent were opposed.
It may be politically incorrect to identify political correctness
One of the most remarkable things about the debate was that actual political correctness didn't get discussed a whole bunch. On stage was Peterson—the guy who has famously refused to use they/them pronouns to address gender non-conforming students (at his job at a publicly funded university). And yet, that didn't come up. Instead, the debaters discussed why perceived censorship is different from censorship (Goldberg), how the right are the true perpetrators of identity politics (Dyson), the value of hierarchies and the sovereignty of the individual (Peterson) and why nobody on this continent seems to have any bloody idea what political correctness is (Fry).
A New York Times profile of Jordan Peterson loomed large
On the day of the debate, the New York Times published a profile of the prof, in which the author lays out Peterson's support for "enforced monogamy" and patriarchy based on innate male superiority. Goldberg quoted from the profile in her opening statement—presumably as a way of articulating the dangerous ideologies that could prevail in the absence of PC culture. Peterson accused her of attacking him personally.
It's okay not to like your teammate
While Goldberg and Dyson were essentially coming from the same place on the Pro side, the men on the Con side were not exactly two anti-PCs in a pod. Fry, who is gay, opened his argument by noting that he was "standing next to someone with whom I have, you know, differences." He appeared to be avoiding Peterson's attempts at comradely eye contact throughout.
It's also okay to call Stephen Fry offensive names
Or so says Fry himself. He argued that the problem with PC culture is that we have become too uptight about words, including a certain unprintable epithet for gay men. This would have been a great time for one of the Pro debaters to jump in and point out the myriad ways in which language influences thought and indicates societal values—but alas, that may have been a little too on-topic.
But it's not okay to call Jordan Peterson white
The evening's emotional climax came during a heated exchange between Peterson and Dyson, in which the former asked if there was a tax he could pay so he could stop hearing about his white privilege. Dyson responded by asking, "Why the rage, bro? You're doing well, but you're a mean white man. I have never seen so much whining and snow-flaking—there's enough whine in here to start a vineyard." The mean-white-guy thing earned Dyson the night's only boos. Peterson came back saying that while he may indeed be mean, he was not okay with being called white: "The fact that race got dragged into that comment is a better example of what's wrong with the politically correct left than anything else that could have happened," he said, prompting a big cheer from the audience.
Nobody wants to appear dead-set against #MeToo
When Griffiths asked the debaters to address whether #MeToo has gone too far, Goldberg made the point that, in fact, the punishments have largely fit the crimes: "When you look at who has actually lost their jobs—it's not based on random McCarthyist rumours, it's people who took their dicks out at work…and now they're staging comebacks!" Fry said that post-#MeToo political correctness has lead to a "genuine fear" in his industry amongst men who feel like they can't say what they think. "It's worrying," he said, before adding that the revelations of decades of rampant and institutionally condoned sexual assault and harassment perpetrated against women are…also worrying.
Following a heated exchange, Dyson suggested that Peterson might better understand the notion of privilege if he accompanied Dyson to a black Baptist church. Peterson accepted the invitation, and Griffiths vowed to make sure this real-life buddy cop movie would actually happen.
Toronto's elite are still anti-PC
In the end, the Cons were the winners by a significant margin—a result that probably had a lot to do with Stephen Fry's wit, Michael Eric Dyson's name calling and the particular biases of the well-heeled audience.
SOURCE
Australia: "Righteous" critics of a reasonable statement
In the age of Twitter, you must emote appropriately. A plea for balance is not possible amid grief
Former Queensland premier Campbell Newman is standing by a series of tweets he made about police "creating total and utter chaos" around the Brisbane CBD when responding to a pedestrian hit and killed by a bus this morning.
A woman was crossing Ann Street near the intersection of Wharf Street just before 7:00am when she was struck by a bus. She died at the scene.
Police closed the intersection for hours and asked motorists to avoid the area.
In response, Mr Newman shot out a series of tweets, saying police could have handled the situation better to minimise traffic disruptions:
"There must be a better way for the Qld Police to deal with a tragic pedestrian death than to shut down the entire northern side of Brisbane and create total and utter chaos extending more than 5 km from the CBD."
"And for those of you who don't agree, what about the surgeons and doctors who didn't get to the hospitals on time, the cancer patients who were heading for treatment, the kids who had exams, the people who missed job interviews etc. etc.
Gee. What would they say if someone had died in the back of an ambulance this morning that had been injured in an incident elsewhere but couldn't get to the RBH in time due to the traffic? Let's stick to the point rather than name calling and invective"
They were quick to attract criticism.
Queensland Premier Annastacia Palaszczuk said Mr Newman's criticism was uncalled for. "Someone has lost their life, a family will be grieving tonight and I think it's very sad to hear that Campbell Newman has come out and criticised police," Ms Palaszczuk said. "The police have to undertake an investigation as quickly as they can where that event occurred."
Queensland Police Minister Mark Ryan said police took appropriate action at the scene. "I must say that I was appalled by comments made by former premier and former Brisbane lord mayor Campbell Newman about the police management of traffic while they were taking the necessary steps to investigate and respond to this morning's tragedy," Mr Ryan said.
Opposition Leader Deb Frecklington also voiced her disappointment at the comments made by her party's former leader.
Speaking to the ABC, Mr Newman said he stood by his tweets, that he recognised the tragedy of the situation, but there was a need to examine if there was a better way of handling such incidents.
Mr Newman said police needed to consider the potential danger of delaying medical staff on other urgent tasks elsewhere in the city. He said if he were still premier, he would have invited the Police Minister and Police Commissioner to his office to discuss the matter.
A Queensland Police Service (QPS) spokesman said it handled the scene of Tuesday morning's fatality by the book. "It is standard procedure to close a road where a fatality has occurred while investigators from the Forensic Crash Unit conduct thorough scene examinations without interference from traffic," the spokesman said. "The QPS is also conscious of ensuring scenes of fatalities are managed with dignity and respect for the victims and their families.
"On this occasion, a traffic alert was issued to the public within minutes of the incident and local diversions were put in place while the intersection was closed to traffic for two hours."
SOURCE
'Just work a little bit harder': Australian Liberal Party politician is heckled by an ABC audience for calling on women to stop being 'bitter' about not being promoted at work
A female politician was heckled by an ABC studio audience for declaring women needed to work harder and stop being bitter if they had failed to get promoted in the workplace.
First-term Victorian Liberal senator Jane Hume told the Q&A program that women, being half of the population, needed to stop thinking of themselves as a minority.
'I really dislike being patronised as if I am a minority,' she said.
The 47-year-old Melbourne-based senator, who is opposed to gender quotas, stirred up the Monday night audience when she suggested women needed to get by on their abilities instead of demanding special treatment. 'We are capable of anything but we are entitled to nothing,' she said.
'We have to work for what we want and for women that don't get there, the trick is work that little bit harder.
'Don't get bitter, get better. Work hard. Nothing that is worth getting doesn't come without hard work.'
Senator Hume's call for women to work harder antagonised the Q&A audience, where 41 per cent of the studio spectators identified as either Labor or Greens voters, compared with 32 per cent who declared themselves as Liberal or Nationals supporters.
The panel discussion took a tense turn when Senator Hume, a former banker, suggested an African schoolgirl in the audience from Melbourne's western suburbs, Sarah Ador Loi, could get ahead if she joined the Liberal Party and was mentored.
Macquarie University research fellow Randa Abdel-Fattah hit back by referencing the senator's skin colour. 'Spoken like a white, female politician,' she said as she sipped on a glass of water.
The Muslim academic, who grew up in Melbourne, suggested Sarah would not have the same connections to become a politician as someone who came from the wealthy suburb of Toorak.
The discussion had also focused on how just 21 per cent of federal Liberal Party politicians were women, compared with 44 per cent in the Labor Party, which has had gender targets since the mid-1990s.
SOURCE
Catholic Therapist Allegedly Fired For Her Religious Beliefs Against Gay Marriage
The Thomas More Law Center (TMLC) filed a federal lawsuit against HealthSource Saginaw, Inc., on behalf of social worker Kathleen Lorentzen who was fired, apparently, because her Catholic religious beliefs precluded her from providing marriage counseling to a homosexual couple.
In addition to HealthSource Saginaw, Inc., defendants Mark E. Kraynak and Mark Puckett are also being sued. The Thomas More Law Center contends in its May 11 filing that Lorentzen's civil rights were violated under federal law and Michigan law, that there was a breach of contract, tortious interference, and termination in violation of policy.
"Kathleen Lorentzen, a Catholic and licensed clinical social worker was told by her supervisor that she had to be 'a social worker first and a Catholic second,' and was fired because she refused to compromise the Catholic faith which teaches that marriage is between one man and one woman," said the TMLC in a press release.
"Mrs. Lorentzen had an exemplary employment record of providing psychological counseling for over 20 years to a diverse group of patients," said the TMLC. "But despite her outstanding record, her former employer, HealthSource Saginaw ("HealthSource"), located in Michigan, terminated her."
"This case shows that people of faith are under assault in the workplace," said TMLC Senior Trial Counsel Tyler Brooks. "The fact is, however, that Christians need not choose between their faith and their jobs. Despite what many would have us believe, discrimination against Christians is a civil rights violation that will subject employers to legal liability."
In the summer of 2017, Lorentzen -- who worked under contract as an Outpatient Behavioral Therapist and had treated many patients for HealthSource since 2011 -- provided some counseling on two occasions. She then decided that, as a Catholic, she could not provide further "marriage" counseling to a gay couple because such unions are contrary to her religious and moral beliefs.
On Aug. 23, 2017, Lorentzen asked her supervisor, Mark E. Kraynak, "if she could refer the couple to another therapist in the practice because of the conflict with her religious beliefs," reads the lawsuit. "In response, Mr. Kraynak became very angry. Mrs. Lorentzen then excused herself and left the meeting."
On Aug. 29, 2017, Lorentzen "was summoned into a meeting with Mr. Kraynak and Colton Reed, HealthSource's outpatient manager," reads the lawsuit. "Mrs. Lorentzen was then interrogated in an aggressive and condescending manner about her faith and her work at HealthSource. During this exchange, Mrs. Lorentzen objected that she felt like she was being harassed and discriminated against because of her religion. Mr. Kraynak told Mrs. Lorentzen that eh had to be 'a social worker first, and a Catholic second.'"
When Lorentzen tried to her explain her views further by referencing certain clergy, Kraynak "hatefully said, 'They are just priests!'" reads the lawsuit.
On Sept. 6, 2017, Lorentzen received a letter form HealthSource's Program Executive Mark Puckett stating that she would be terminated in 30 days. After she received the letter, according to the lawsuit, Lorentzen "was subjected to a number of actions that undermined, embarrassed, and humiliated her" by Kraynak and Reed.
These actions reportedly included pushing Lorentzen, blocking her from walking down the hallway, and eavesdropping on her.
The lawsuit further states that when HealthSource's "medical director found out the actual reason Mrs. Lorentzen was leaving, he told Messrs. Reed and Kraynak that the gay couple seeking counseling could have simply been referred to another therapist and that they should not have terminated her without consulting him first."
The TMLC, on Lorentzen's behalf, is seeking a trial by jury on all claims, compensatory damages, past and future medical expenses, "damages for past and future mental and emotional distress," punitive damages, attorney's fees, tax costs of the legal action, and "other and further relief as the Court may deem just and proper."
The lawsuit was filed in the U.S. District Court for the Eastern District of Michigan on May 11, 2017.
SOURCE
*************************
Political correctness is most pervasive in universities and colleges but I rarely report the incidents concerned here as I have
a separate blog for educational matters
.
American "liberals" often deny being Leftists and say that they are very different from the Communist rulers of other countries. The only real difference, however, is how much power they have. In America, their power is limited by democracy. To see what they WOULD be like with more power, look at where they ARE already very powerful: in America's educational system -- particularly in the universities and colleges. They show there the same respect for free-speech and political diversity that Stalin did: None. So look to the colleges to see what the whole country would be like if "liberals" had their way. It would be a dictatorship.
For more postings from me, see
TONGUE-TIED
,
GREENIE WATCH
,
EDUCATION WATCH INTERNATIONAL
,
AUSTRALIAN POLITICS
and
DISSECTING LEFTISM
. My Home Pages are
here
or
here
or
here
. Email me (John Ray)
here
. Email me (John Ray)
here
.
***************************