Political cakes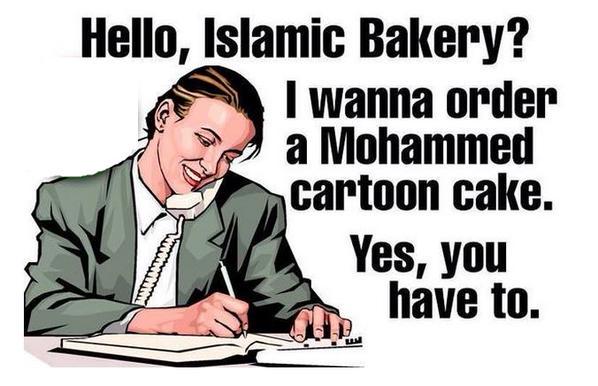 Another false rape claim from Britain
At least the Brits do lock these bitches up sometimes
A London Underground worker is facing jail for accusing an accountant she met at a nightclub of rape after he left her waiting for a lift home outside McDonald's for 45 minutes.
Comfort Yinusa, 23, from Tilbury, Essex, became angry after the victim - who cannot be named - was late returning to give her a lift back to her hotel following a night out.
When he finally arrived to pick her up from outside the fast food restaurant in Liverpool Street, central London, she stormed off and called her boyfriend Kenneth Umezie to pick her up instead.
On the drive home, she then told her partner that she had been raped by the accountant and sexually assaulted by his friend. She later called 999 to report the alleged incidents and the two men were arrested and held in a cell for at least 14 hours before being released on bail.
It took five further weeks of investigations - including for forensic evidence, mobile phone data and CCTV footage to be studied - for Yinusa's allegations to be proved false. However, she refused to admit her lies until just before the trial at the Old Bailey last month.
[Blacks very rarely make admisions]
Judge Peter Rook QC is now due to sentence the Tube worker on Friday after she admitted perverting the course of justice between October 25, 2013 and January 3 last year.
The court heard how Yinusa reported the accountant for rape on October 26, 2013 while travelling in her boyfriend's car. She claimed she had met the Nigerian at the Dollhouse nightclub near Liverpool Street.
Heather Stangoe, prosecuting, said: 'She left with him and his friend. She had been offered a lift home. 'All three went to McDonald's and they ordered some food and CCTV showed them there laughing at the tills.'
The accountant, who was carrying Yinusa's bag, left her with his friend while he went to collect his car - only to realise he could not remember where he had parked.
Yinusa told police that she was sexually assaulted by the friend while they waited outside McDonald's and the Lord Aberconway pub.
She claimed that when the accountant returned, he took off his trousers and raped her while his friend watched.
Miss Stangoe said: 'She said she did not know whether he was using a condom.'
Officers described her as 'coherent and calm' while she was making the allegation via the 999 call.
Her boyfriend, who she has since split from, told police that she called him and asked him to pick her up in the early hours of the morning.
Miss Stangoe said: 'It seems there was a bit of an atmosphere when he arrived. CCTV shows them having a remonstration.
'He says that after about a minute of her being in the car she told him she had been raped. 'She told him she had made several attempts to contact the police but had been unsuccessful. She was with him when she made the call to 999.'
Yinusa was taken to the Haven centre – a specialist establishment for people who have been sexually assaulted - at 8.30am and surprised staff by falling asleep while waiting to be examined.
She also insisted that she did not want to be examined and instead wanted to go home.
The court also heard how when she was driven back to the scene, which had been cordoned off by police, she claimed she could not remember where exactly the attack happened.
Yinusa also failed to turn up for a police video interview and instead sent a text message to officers which said: 'I can't make it, please can I call you later, I'm sorry for wasting your time.' She then called police on November 1, 2013 to say she did not want to go ahead with the complaint.
At a meeting three days later, Yinusa told police that the rape happened after they left McDonald's but did not know where. Two weeks later, she backtracked again and said she did not want to go ahead with the allegation.
Yinusa was finally arrested on December 2, 2013 and confronted with the CCTV and phone evidence proving she had lied. However, she made no comment during her police interview.
The following day, the victim and his friend were told they would not be charged, having spent five weeks on bail. Miss Stangoe said that the incident 'had affected him very severely'.
Both men had to provide intimate samples, surrender their clothing and undergo a medical examination. They were kept in custody for over 14 hours before being released on bail.
Two police officers and two paramedics were called to meet Yinusa after the 999 call and CCTV from 16 locations had to be trawled through by investigators. Miss Stangoe said that the complaint wasted more than 100 hours of police time and the forensic investigations alone cost £3,216.
Yinusa's barrister Neville Rudston described her as 'desperate' and said: 'It is popularly seen as a monstrous act. The enormity of the consequences should have been clear. The reality is they weren't. 'It was an outburst of anger, albeit she had a great deal to be angry about, it's an outburst.
'She says it and then she was stuck with it, she didn't have the robustness or strength to say 'no I take it back' and that's why it turned out as badly as it did.'
SOURCE
Muslim woman, 24, who was denied a job at Abercrombie & Fitch because of her head scarf wins in Supreme Court
Muslims must be "accomodated", apparently
The Supreme Court ruled Monday for a Muslim woman who did not get hired after she showed up to a job interview with clothing retailer Abercrombie & Fitch wearing a black headscarf.
The justices said that employers generally have to accommodate job applicants and employees with religious needs if the employer at least has an idea that such accommodation is necessary.
Job applicant Samantha Elauf did not tell her interviewer she was Muslim. But Justice Antonin Scalia said for the court that Abercrombie 'at least suspected' that Elauf wore a headscarf for religious reasons. 'That is enough,' Scalia said in an opinion for seven justices.
The headscarf, or hijab, violated the company's strict dress code for employees who work in its retail stores.
Elauf was 17 when she interviewed for a 'model' position, as the company calls its sales staff, at an Abercrombie Kids store in a shopping mall in Tulsa, Oklahoma, in 2008. She impressed the assistant store manager with whom she met.
Justice Ruth Bader Ginsburg said the civil rights law requires certain people to be treated differently to other applicants if they have a religious requirement.
'They don't have to accommodate a baseball cap. They do have to accommodate a yarmulke,' Ginsburg said, in a reference to the cap worn by some Jewish men.
Justice Samuel Alito said employers like Abercrombie could easily find out if prospective employees need a religious accommodation by simply asking if they are able to abide by work rules.
He noted that Abercrombie had assumed Elauf would wear the head scarf every day simply because she wore it at the interview. 'Maybe she just had a bad hair day,' Alito said.
Other conservative justices were more skeptical about the government's arguments.
Chief Justice John Roberts speculated that putting the burden on the employee to assess whether a religious accommodation is needed 'may promote stereotypes to a far greater degree' by requiring interviewers to inquire about applicants' religious beliefs.
Muslim groups said in a friend-of-the-court brief in supportof Elauf that employment discrimination against Muslims iswidespread in the United States.
Often, the act of a woman wearing a head scarf is what triggers the discrimination, the brief said.
The EEOC has reported that Muslims file more employment claims about discrimination and the failure to provide religious accommodations than any other religious group.
Groups representing Christians, Jews and Sikhs also filed court papers backing Elauf.
The case came before the top U.S. court at a time when some Western nations are struggling with culture clashes relating to accommodating local Islamic populationS.
The United States has not, however, faced the same tensions as some European countries including France.
Abercrombie has faced other employee lawsuits, including one in which it agreed in 2004 to pay $40 million to several thousand minority and female plaintiffs who had accused the company of discrimination.
SOURCE
Must not kill animals for food?
A 'sexy' Czech hunter who has been widely criticized for posting photos of her big game trophies and an American TV host paired up for a controversial outing in Slovakia.
Michaela Fialova and Larysa Switlyk documented their trip as they hunted roe deer in Europe together, filming as they went in search of the animals.
The ladies documented not just the kill, but also the aftermath as they cooked and ate the animals.
Fiavola, 27, who is from Litomerice, Czech Republic, spends the rest of her time working as a personal trainer, kick-boxer and guide for other hunters in Africa and Europe, began hunting when she was just 13-years-old.
She has previously described the sport by saying hunting gives people 'memories that will last a lifetime.'
Photos of Fiavola's kills, which include everything from zebras and lions to monkeys and boars have sparked outrage among many.
An online petition on Change.org titled 'Ban Michaela Michaelka Fialova from Africa and shut down her Facebook page promoting trophy hunting as being a glamorous thing to do' has almost 25,000 signatures.
It was created by Alice Harding, from Dartmouth, England, who described hunting as 'despicable.' She said: 'It's repulsive to glorify trophy hunting and sadistic practices such as bow hunting and posing with dead bodies of animals as if hunting is an appealing and desirable thing to do.
Despite this criticism, Fialova, who refers to those against hunting as 'antis', wrote on Facebook on February 24: 'Hey antis, do you really think this will stop me? I WILL NEVER STOP HUNTING.'
And in a video posted at the beginning of March, she explained: 'The difference between this meat and your meat is your meat is usually from slaughterhouses. 'The animal has a right to live a proper life and until its end it doesn't know about being hunted.'
Switlyk, 30, is a former accountant who left her job in New York City to pursue her passion for hunting and fishing, and now hosts Larysa Unleashed on Sportsman Channel.
The show follows her around the world, and her outing with Fialova will no doubt be featured in an upcoming episode.
She also works closely with Hunt of a Life Time, a Florida nonprofit that grants hunting and fishing trips for children who have been diagnosed with life-threatening illnesses.
SOURCE
Church fat cat's salary climbs to £409,000
How typically hypocritical of today's Church of England leadership to preach one thing but do the opposite.
During the election campaign, Anglican bishops made the highly political move of issuing a 52-page letter urging Christians to resist the power of big business.
Their call for an end to the free-market ideas embodied by Margaret Thatcher, which they claimed were 'entrenching inequality' between rich and poor, infuriated the Tory Party.
Yet just a few weeks later, Church leaders now appear to be happily embracing big-business values.
For the latest report by the Church Commissioners, who handle the C of E's investments, reveals that they awarded a £75,000 pay rise to their director of investments.
The 18 per cent increase, at a time when the Government has imposed a public sector pay freeze, brings Tom Joy's total salary package to £409,000.
Of course, the Church has to employ the best financial brains to look after its investments, but such a large amount of money will shock many parishioners working hard to raise funds.
Indeed, Mr Joy is not the only person being well-rewarded by the Church. Ten of the commission's 229 staff earn more than £100,000 a year.
The report says: 'The Church Commissioners is a large and sophisticated institutional investor investing in a broad range of asset classes including significant property holdings and as such seeks to attract and retain high-calibre investment professionals.
'Accordingly, salaries are designed to reflect the market for investment specialists…' Spoken like true Thatcherites.
SOURCE
*************************
Political correctness is most pervasive in universities and colleges but I rarely report the incidents concerned here as I have
a separate blog for educational matters
.
American "liberals" often deny being Leftists and say that they are very different from the Communist rulers of other countries. The only real difference, however, is how much power they have. In America, their power is limited by democracy. To see what they WOULD be like with more power, look at where they ARE already very powerful: in America's educational system -- particularly in the universities and colleges. They show there the same respect for free-speech and political diversity that Stalin did: None. So look to the colleges to see what the whole country would be like if "liberals" had their way. It would be a dictatorship.
For more postings from me, see
TONGUE-TIED
,
GREENIE WATCH
,
EDUCATION WATCH INTERNATIONAL
,
FOOD & HEALTH SKEPTIC
,
AUSTRALIAN POLITICS
and
DISSECTING LEFTISM
. My Home Pages are
here
or
here
or
here
. Email me (John Ray)
here
.
***************************